Naturally boost your immune system to help fight off tough cold and flu viruses with this easy, homemade elderberry syrup recipe with honey. Learn how to make elderberry syrup to boost immune health and shorten the duration of colds and flu, as well as reduce excessive mucus and soothe a sore throat. All you need are three simple ingredients to make this natural cold and flu relief remedy to support your family's health and wellness.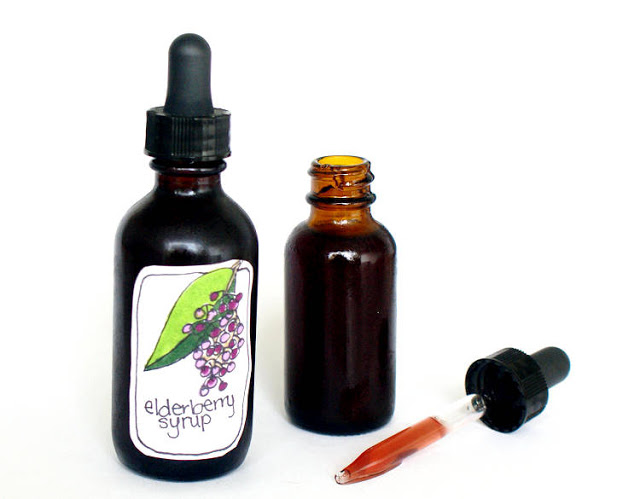 How to Make Elderberry Syrup with Honey
Health Benefits of Elderberries
Black elderberries have been used for hundreds of years for their medicinal value in treating colds, the flu, allergies and to boost overall respiratory health. Found along rivers, forests and even roadsides, this common botanical yields ripe berries that are rich in antioxidants, potassium, beta carotene, calcium, phosphorus, and vitamin C. Studies have shown, that consuming elderberry syrup can greatly reduce the duration of colds and flu. Therefore making it an effective, and tasty, natural home remedy.
My homemade elderberry syrup recipe with honey is a simple and tasty way to ingest the nutrients offered by elderberries. It's believed that taken daily, elderberry syrup can boost your immunity to help prevent colds and flu, as well as aid in the recovery of an existing illness such as the flu and colds. It is able to both shorten the duration an illness as well as reduce excessive mucus and soothe sore throat pain.
Ingredients Used to Make Elderberry Syrup
This elderberry syrup recipe is made using dried elderberries. Therefore, if you don't live in an area where you can safely forage elderberries, or local purchase options are limited, you can simply buy all the ingredients you need to make elderberry syrup online.
You can source the dried elderberries needed to make elderberry syrup recipe with honey on Amazon here, with Prime 1-day shipping if you're in a time crunch. Additionally, you may also want to pick up some spices at your local grocer. Adding cinnamon sticks, organic cloves and organic ginger root to this elderberry syrup recipe adds extra flavor. These spices can also offer additional immune support. Simply add these additional ingredients to the bag of elderberries before you begin.
Don't have time to make your own? You can also buy Elderberry Syrup either locally online.
Keep reading to learn how to make elderberry syrup with honey for your family to naturally support immune health and promote wellness.
Homemade Elderberry Syrup Recipe with Honey
Ingredients:
1 1/2 oz. organic elderberries
1 1/2 cups filtered water
1/2 cup raw honey
Supplies:
amber or cobalt blue glass bottles with droppers
digital kitchen scale

large pyrex measuring cup
4″ x 6″ cotton muslin bag
small funnel
small saucepan
spatula
labels
Instructions:
Start by weighing out the elderberries, then place in a large cotton muslin bag (optional.) Pour your filtered tap water into a small saucepan on the stove, turn the heat on high and add the bag of elderberries.
Bring the water to a boil.
Then reduce heat and allow to simmer for twenty minutes or until the water is reduced to half.
Now remove the elderberries from the water and press firmly to squeeze out all of the remaining juice from the berries. If you did not use a mesh bag, strain the berries from the water.
Combine the water with the raw honey – I bought local clover honey from my Farmer's Market – in the glass pyrex measuring cup and stir to combine thoroughly. (Keep in mind raw honey is not recommended to children under two years of age.)
Finally, using a funnel, slowly fill your amber glass bottles with elderberry syrup. Don't fill them too full or the syrup will spill out of the edges when you place the lids with the droppers on them. Label as desired.
You can store your elderberry syrup with honey in the fridge where it will keep for 2-3 months. To use, take one Tablespoon daily to help prevent illness. If you have an existing cold or flu, take one teaspoon every 2-3 hours while ill.
More Natural Ways to Support Immune Health
If you liked learning how to make elderberry syrup for cold and flu relief, then you may also enjoy my fire cider vinegar recipe. Fire cider vinegar is a traditional, warming apple cider vinegar tonic. It acts as a holistic decongestant while also supporting immune health. Get the recipe here.
Alternately, you may also want to try one of these other natural remedies for cold and flu relief.
Want to teach your children about the benefits of natural herbs and botanicals? Check out the book, A Kids Herb Book, by Lesley Tierra! It's packed with beautiful illustrations, charming herb facts, coloring pages, herb checklists, funny stories, herbal bedtime stories, a "how to make" section, herbal mythology written for kids, as well as a plethora of engaging herbal information for the young ones.
If you like my tutorial on how to make elderberry syrup, then follow Becca Ink on Facebook and Instagram for more great DIY ideas.