I recently tried fire cider vinegar as a natural cold and flu remedy for the first time. This was after getting yet another cold. A cold which I honestly think was being passed back and forth between me and the current (still new) guy I've been dating. (Come on. I'm 44. I'm way too old to act the prude.) The results were quickly noticeable. By day three I felt like a whole new, shiny person. And that undying sinus headache, that typically only Sudafed takes care of, was quick to make a hasty retreat from the first use.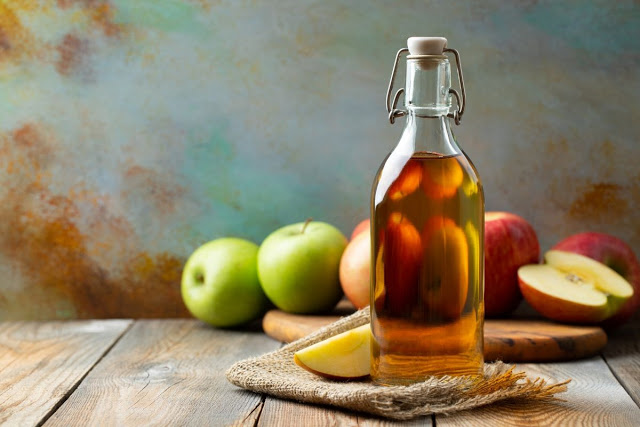 Fire Cider Cold And Flu Remedy
I've been an advocate for apple cider vinegar for a number of years now. It all started with a quest to learn how to better manage my fibromyalgia after realizing that pain killers were literally the worst ever way to treat a chronic condition. I tried literally a zillion supplements and remedies during my hunt for a natural alternative. This journey led me to kombucha tea. Then, eventually, to an apple cider vinegar tonic to remedy my gut health.
When I first learned about fire cider vinegar it was during a trademark dispute over the use of "fire cider." A traditional cold and flu remedy, the term fire cider had been used for centuries as a holistic remedy. That a company had come along and trademarked a well known term used for a natural remedy was concerning to a lot of people. Luckily, some upstanding, prominent herbalists took it upon themselves to fight this trademark. And, after a lot of time and money (much of which was donated to the cause), they finally won. Five years later and Shire City Herbals no longer owns a trademark to the common term, fire cider.
This also sets a precedent that prevents the names for traditional folk remedies from being trademarked in the future. Therefore it's seen as a win for herbalists. After all, people had been making, using and selling fire cider vinegar long before Shire City Herbals trademarked the name in 2012.
Not only should the name not have been trademarked in the first place, but the claim that Shire City Herbals came up with fire cider vinegar on its own in 2010 was simply untrue. There are decades upon decades of history outlining its use. Rosemary Gladstar, a well known and respected herbalist, also outlined a fire cider tonic recipe in her book, Herbs for the Home Medicine Chest, which was first published in 1999 as a traditional, herbal cold and flu remedy.
What Is Fire Cider?
Fire cider vinegar is a traditional, warming apple cider vinegar tonic. It acts as a holistic decongestant while also supporting immune health. Comprised of onions, garlic, peppers, ginger, horseradish, a lemon or orange, turmeric, raw honey and apple cider vinegar, this spicy folk preparation is perfect as a shooter or an addition to water, oil and vinegar dressings and foods like fried rice or mixed veggies. There are a number of different ways to make fire cider vinegar, although the basics tend to remain the same due to their effectiveness.
It's easy to customize and, of course, you can add as much honey as you like to taste. It also makes a great addition to non-alcoholic, bloody mary recipe. Unfortunately, it does take a month to steep in a cool, dark location. So if you need your fire cider fix ASAP, you can buy this traditional herbal cold remedy online. Or pick some up at your local co-op like I did!
Keep reading to learn how to make a homemade fire cider vinegar as a natural cold and flu remedy for you and your family.
Traditional Fire Cider Vinegar Recipe
Ingredients:
1 medium organic onion, chopped
10 cloves of organic garlic, crushed or chopped
2 organic jalapeno peppers, chopped
Zest and juice from 1 organic lemon
1/2 cup fresh grated organic ginger root
1/2 cup fresh grated organic horseradish root
1 Tbsp. organic turmeric powder
1/4 tsp. organic cayenne powder
2 Tbsp. of dried rosemary leaves
organic apple cider vinegar
1/4 cup of raw local honey, or to taste
Instructions:
Prepare the ingredients as indicated, by chopping the onion, garlic and peppers. Then grate the ginger and horseradish. Zest and juice the lemon, then combine with the prepared vegetables and spices in a one quart, sterilized mason jar.
Fill the remainder of the mason jar with unfiltered apple cider vinegar. (I love Bragg's apple cider vinegar with the "mother.") Then, place a piece of wax paper, or parchment paper, on top of the jar and screw on the lid. (Alternately, you can also use a mason jar with a plastic lid. You just don't want the acid from the apple cider vinegar eating away at the metal.)
Shake the jar to combine the ingredients. Then, store the mason jar with the fire cider vinegar in a cool, dark location. You should shake the jar once a day for a period of four to six weeks.
After this time, strain the fire cider vinegar through a fine mesh sieve strainer or cheesecloth. Be sure to squeeze the liquid from the pulp of your fire cider vinegar ingredients as well. You want all the natural health benefits that are found in these particular foods!
Now add the raw honey to the fire cider vinegar. You can adjust the amount to taste. Fire cider vinegar is spicy, but not so spicy I couldn't stand it. (And yes, I'm a wimp. I buy MILD salsa like a crazy person.)
Your fire cider vinegar is now ready to be used. When not in use, simply store your fire cider vinegar in a cool, dark location or in your refrigerator.
How to Use Fire Cider as a Cold and Flu Remedy
To use your fire cider vinegar, take one to two Tablespoons as needed to naturally relieve cold and flu symptoms. I like to do shots about three times a day when I first start getting sick. (I also chug a glass of water directly afterwards to tame the burn.) However, you can adjust your intake based on what your body needs at the time.
If you drink a LOT of apple cider vinegar, it does have the potential to damage tooth enamel. So you may want to dilute yours in a glass of water instead.
If you like my fire cider vinegar recipe, then be sure to pin it for later.
Alternative Natural Cold and Flu Remedies
If you're looking for more ways to support immune health throughout cold and flu season, you can also try one of these other natural alternatives.
If you like my natural fire cider vinegar recipe, be sure to follow Becca Ink on Facebook and Instagram.
This article is not intended to provide diagnosis, treatment or medical advice and is provided for informational purposes only. Information on products mentioned are based on my own personal experience or research and have not been evaluated by the FDA. Please consult a physician prior to making any changes that may impact your health.