If you're looking for a fun make and take craft project for your women's craft night, then you must make these DIY wine glass charms. An easy and fun adult craft night idea for women of all skill levels, this project is perfect for a wine and art night with friends. Pair your event with your favorite bottle of wine and a good time is guaranteed!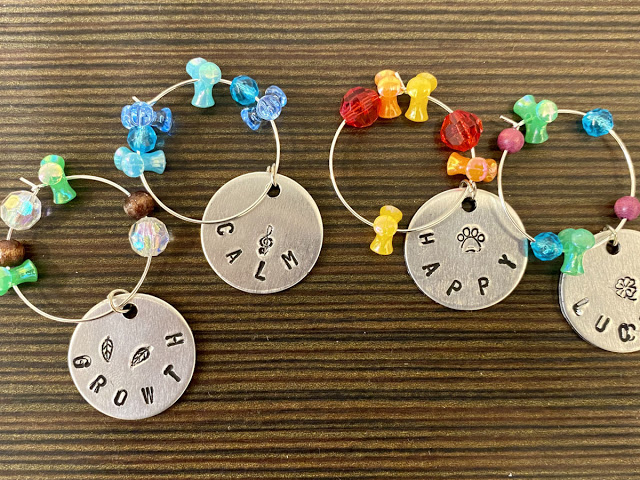 Wine & Art Wednesdays: Women's Craft Night Ideas
I love getting together with friends. Unfortunately, there are a ton of time restraints in life. So getting together for a girl's night can sometimes be a challenge. Luckily, one of my dear friends, Hillary, teaches a class a few times a month for her job.
Coined Wine & Art Wednesdays, this event is hosted at an amazing, indoor handmade marketplace called Crafteria. It's located in downtown Roanoke, VA. They not only sell super cool products by local artisans, they also offer a number of classes each month to learn a new skill or explore, what could be, a new hobby. Classes are typically on Wednesday nights and Saturday afternoons.
My favorite classes, of course, are those taught by friend, Hillary. She always comes up with exciting new projects to try. Although, her class on alcohol ink wine glasses has been the most popular by far. I try to attend Wine & Art Wednesday whenever possible, with a friend or two in tow. It makes it easy to get together with friends while also learning a new craft. And the extra, super awesome bonus is that no one has to clean house to host an event.
Wine & Art Wednesdays serve up some pretty awesome women's craft night ideas for make and take crafts. In January, I attended a class on needle felting scarves. Other crafts I've made through my experience with Wine & Art Wednesday include making needle felted wine bags, suncatchers from upcycled CDs, Gelli prints and alcohol ink ornaments.
At the latest Wine & Art Wednesday I attended, my friends and I made DIY wine glass charms. As my friends Whitney and Bambi had so much fun making our wine glass charms, I wanted to share this make and take craft project with you! Whether you attempt this craft solo or incorporate it into your own women's craft night, I hope you enjoy making your own DIY wine glass charms as much as we did.
DIY Wine Glass Charms: Adult Make and Take Crafts
Supplies & Materials:
Directions for Making DIY Wine Glass Charms:
To make these DIY wine glass charms, start by peeling off the plastic coating that protects the aluminum tags, on both sides. You may need to use your fingernail to scratch at the edge if you have difficulty.
Once you've removed the coating from both sides, you're ready to start stamping!
Place the aluminum tag onto a hard surface such as a countertop. If using a table, remove any objects from the table to keep them from falling when hammering. You may want to place something on your surface area to protect it.
(We worked on concrete countertops, therefore when we made our DIY wine glass charms, we didn't have to worry about surface damage.)
Once you've planned out your phrase or design for your wine glass charms, use a blank tag for practice first. I made the mistake of not spacing correctly the first time. I also had a letter or two end up sideways or backwards. (But that was basically because I need bifocals at this stage in my life and I'm not ready to make the leap.)
Use the hammer with a metal stamp to make your first letter. Do this by holding the metal stamp in place, then firmly tapping the stamp with the hammer two or three times. Don't bang too hard, however. As the aluminum is a soft metal, you'll end up with an imprint from the edge of the stamp if you pretend you're at a county fair competition.
Continue with each letter for the phrase you've chosen for your wine glass charms. You can use a piece of masking tape to line up your letters when stamping if needed. If desired, you can also add symbols using the nature themed or other metal stamps.
Once you've make your first wine glass charm, repeat the process with the remaining tags to create a set of DIY wine glass charms. Four charms make a typical set. However, you can make as many as you like.
After you've stamped all of the aluminum blank tags, use the black paint to emphasis the lettering or symbols you created.
To do this, simply apply a small amount of black acrylic paint to the stamped part of your wine glass charms. Then use a napkin or paper towel to remove the excess paint from the front of each charm. You only want the paint to remain in the indented, stamped portion of your charms.
While the paint dries, add beads to the wine glass charm rings. If your beads have small holes, you may need to use the needle nose plier to straighten the end of the wire that hooks into the loop. Then slip the beads onto the ring as desired.
Repeat the process for the same number of rings as wine glass charms you've made.
Now use the needle nose pliers to attach a small jump ring through the hole of each wine glass charm. Use the pliers to open the jump ring.
Then loop the jump ring through the hole. Add the wine glass charm ring you decorated with beads. Now close the jump ring using the pliers.
Repeat this process for all of your wine glass charms. Once completed, your DIY wine glass charms are ready to use or gift!
Design Ideas for Wine Glass Charms
Here are some great design ideas for DIY wine glass charms. These are the same wine glass charms that my friends and I made during Wine & Art Wednesday.
Here's one of my wine glass charms. I skipped using the jump ring on mine since my hands aren't always my best friend. It works just as well if you'd like to skip that step or save on materials. Other phrase ideas that work with "More Please" could be Alice in Wonderland themed to say "Drink Me" etc.
This wine glass charm was made by my friend, Whitney. She also opted not to use the jump rings for her DIY wine glass charms. This charm says "I Love You to the Moon" and features tiny star shaped beads.
What ideas do you have for your own DIY wine glass charms?
If you like this women's craft night idea for making DIY wine glass charms, then be sure to pin this project to Pinterest to save for later. Also be sure to follow Becca Ink on Facebook and Instagram for more great DIY ideas.