Learn how to make a sore muscle Epsom salt scrub recipe with essential oils for natural pain relief of fibromyalgia symptoms and sore muscles or joint pain.
I have fibromyalgia so I'm very familiar with aches, pains, and sore muscles. So I created this natural sore muscle salt scrub recipe to help relieve that achy and stiff feeling I get in the morning as well toward the end of the work day. This all natural, Epsom salt scrub recipe is great for a morning or evening shower – or whenever you feel like you need some sore muscle relief!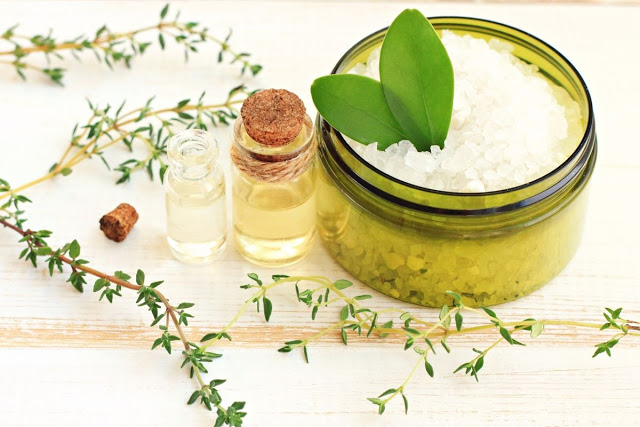 This natural sore muscle salt scrub recipe works two fold for me. The Epsom salts and organic essential oils work to help relieve sore muscles, while the massaging motion of rubbing the salt scrub into my muscles helps to also ease the pain symptoms of the fibromyalgia. Give it a try and tell me what you think!
Natural Sore Muscle Salt Scrub Recipe
Ingredients:
1 Cup Epsom Salt
4 Tablespoons Sweet Almond Oil or Grapeseed Oil
3 Tablespoons Shea Butter
2 mL Tangerine Essential Oil
1 mL Peppermint Essential Oil
1 mL Eucalyptus Essential Oil
Instructions:
To create this natural sore muscle salt scrub recipe, begin by measuring out the shea butter with a level Tablespoon and place in a glass bowl or other heat safe container. Melt the shea butter in your microwave at 50% power until just melted.
Next, measure out your carrier oil and mix into the shea butter.
Now, measure out your essential oils one at a time, using a separate pipette with mL markings for each essential oil, and stir into your shea butter and carrier oil mixture.
Finally, measure out your Epsom salts with a measuring cup and pour into the bowl with your shea butter and oils. Mix well. Store your completed natural sore muscle salt scrub recipe in an airtight container.
To use, simply remove your desired amount of this natural sore muscle salt scrub from the container and massage into skin, avoiding your face. Alternately, you can add a scoop of your bath salts to warm, running bath water instead and settle in for a long soak!
Not a fan of salt scrubs? Try it as bath soak instead. Simply add the desired amount to your tub the same way you would an Epsom bath salts recipe. Or make this pain relief bath salts recipe instead.
Love my Epsom salt scrub recipe with essential oils? Then pin this natural pain relief remedy to Pinterest for later. Also be sure to check out some other natural pain relief remedies below.
More Natural Pain Relief Remedies
Now that you've tried my Epsom salt scrub recipe to soothe your sore muscle pain, give one of these other pain relief remedies a try.
For more natural remedies, follow Becca Ink on on Pinterest, Facebook and Instagram.