These DIY Easter egg bath bombs add a bit of fun to bath time no matter your age! The perfect non-candy Easter basket filler for tweens, teens and even adults, these DIY Easter egg bath bombs add an abundance of bubbles, color and sparkling glitter to your bath time experience. Plus, they also nourish and hydrate dry skin with natural ingredients like cocoa butter, babassu oil and yogurt powder.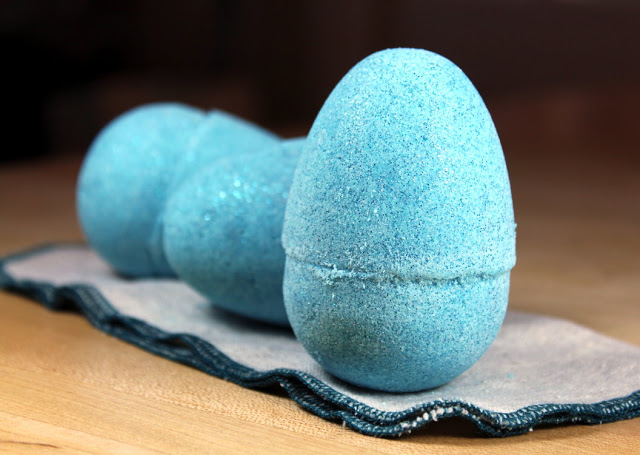 Plus, clean up is so easy! Because this Easter egg bath bomb recipe (made as indicated) calls for a non-staining bath bomb colorant, everything will rinse off your tub with ease! No scrubbing necessary. (Trouble getting bath bomb colorants from past projects out of your tub? Try this amazing shower cleaner hack made with just two common household ingredients!)
These fizzing DIY Easter egg bath bombs make a wonderful addition not only to kids' Easter baskets, but are also great gifts for friends, family and neighbors for spring!
This particular bath bomb recipe was inspired by my friend, Cathy, who loves Lush's golden glitter egg bath bombs. While these don't have quite that much glitter, you can easily increase the amount of both the bath bomb color powder for more color. As well as the amount of skin safe glitter for some serious sparkle! I recommend using eco-friendly, biodegradable glitter when making my DIY Easter egg bath bombs.
DIY Easter Egg Bath Bombs Recipe
Ingredients:
8 oz. citric acid
16 oz. baking soda
2 oz. cocoa butter
2 oz. babassu oil
.5 oz. cosmetic kaolin clay
1 oz. SLSA
.5 oz. yogurt powder or coconut milk powder
.15 oz. blue water soluble bath bomb colorant
.5 oz. biodegradable blue glitter (or similar)
.5 oz. biodegradable silver glitter (or similar)
.3 oz. essential oil of choice, optional
Supplies & Materials:
Digital scale
Plastic Easter eggs
Glass bowls
Utensils for mixing
Directions for Making Easter Egg Bath Bombs:
I used large plastic Easter eggs for my DIY Easter egg bath bombs. This bath bomb recipe will yield seven large egg-shaped bath bombs.
Begin by using a digital scale to weigh out the cocoa butter and babassu oil. Heat at 50% power in the microwave or in a double boiler until melted. If using a fragrance, weigh out the essential oil and stir into the wet ingredients.
In a separate container, weigh out the baking soda, citric acid, kaolin clay, SLSA and yogurt powder. You will want to wear a mask for this step as the SLSA is an airborne product and it will get into your nose without a mask. Mix the dry ingredients until thoroughly combined.
Now weigh out the water soluble blue bath bomb colorant and the glitters. Feel free to mix up your own color combinations if desired!
Mix the color and glitter into the dry ingredients until they are all a uniform blue color.
Now combine the wet and dry ingredients. Mix well. (You want the bath bomb mixture to be the consistency of wet sand. Find tips on how to make bath bombs here.)
Repeat with the other half of the egg.
If your plastic eggs are a flimsy rather than rigid plastic, take care not to press either of the halves on top of the other. Otherwise your Easter egg bath bombs will be difficult to remove from the plastic egg mold.
Set the molded Easter egg bath fizzies aside for an hour or two in a location where they won't be disturbed. Then carefully unmold each Easter egg bath bomb and wrap or packaged as desired for gifting.
To use your DIY Easter egg bath bombs, simply add to warm running bath water and enjoy!
If you love this Easter basket filler idea for a fun, non-candy Easter treat, then be sure to pin this project to Pinterest for later. You can also discover more fun Easter ideas on Pinterest here.
Also be sure to follow Becca Ink on Facebook and Instagram for more great DIY ideas.