Looking for delicious ways to make fruit popsicles? Then you must try this recipe for blueberry lemon popsicles! Made without yogurt for a dairy free dessert, this easy fruit pop recipe is made with ripe blueberries and fresh squeezed lemon and orange juice. These simple lemonade popsicles with fruit juice are refreshing for both children and adults, and they make a wonderful frozen summer treat!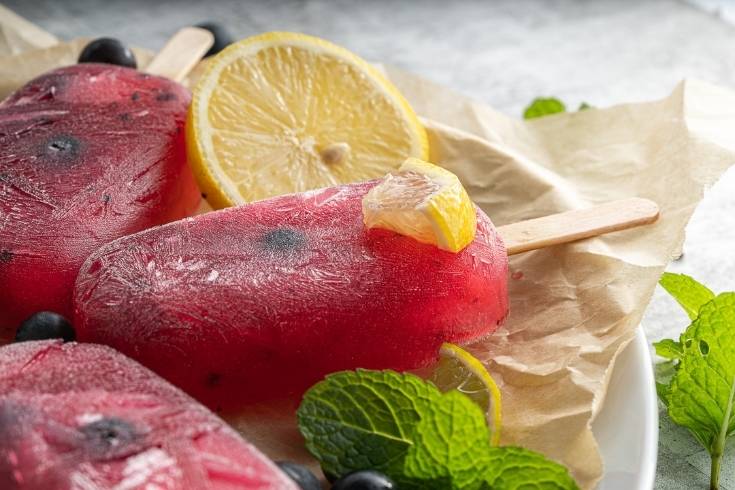 Blueberry Lemonade Popsicles
I love to make fruit juice popsicles during the hot summer months to keep in the freezer. As I try to eat as little dairy as possible to prevent triggering inflammation, I often opt for making vegan fruit popsicles. This blueberry lemonade popsicles recipe is made using real fruit, fresh from the grocer or farm! This creates a refreshing frozen, summer treat that everyone is sure to love!
While I try not add refined sugar to the majority of my recipes, I did add a small amount to this one so they would taste more like naturally sweetened, blueberry lemonade. However, if you prefer a sugar-free option, you can also use monk fruit to make sugar free lemon blueberry popsicles. Alternately, you can also try one of the sugar-free variations listed below for a no or low sugar option.
As these fruit juice popsicles are made with freshly picked fruit and just squeezed juice, they are a healthy treat alternative to store bought freezer pops. I like to keep these on hand for a sweet frozen, summer treat after dinner. However, they're also perfect if you just need to cool off on a hot summer day. Or enjoy them poolside!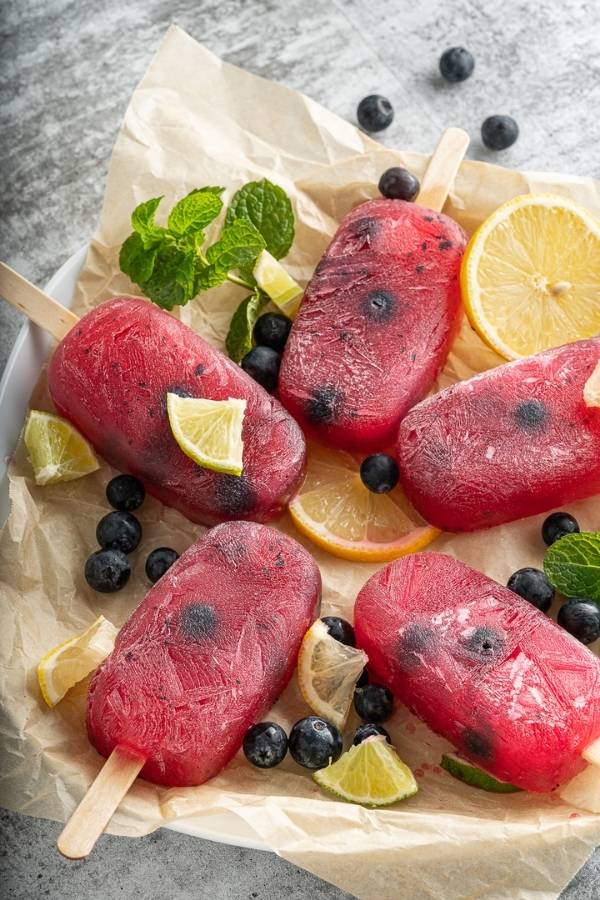 How Do You Make Fruit Popsicles More Like Store Bought?
If you've ever made fruit juice popsicles, you probably had a rock hard brick of ice pops. This is because juice is mostly water. And, as we all know, juice freezes much like water when it creates ice cubes. However, it's easy to learn how to make popsicles with juice that taste more like your favorite store bought versions.
The sugar in these simple lemonade popsicles helps to make them flaky, rather than a solid cube of ice. So, even though these fruit popsicles don't have a lot of sugar, it does help to break up the water.
In addition, I also used real blueberries for this lemon blueberry popsicle recipe. While you can puree the blueberries and add them to the mixture before freezing, I highly recommend pureeing only a small amount of the blueberries for color. Then add the rest of the blueberries whole. Whole blueberries and pieces of real fruit will help make these amazing fruit juice popsicles softer as it also further breaks up the ice.
How Do I Make Blueberry Lemon Popsicles With No Sugar?
Refined sugar isn't really the best ingredient. While necessary for some recipes, this is one in which you can easily use a sugar substitute if you need a low or no sugar recipe, or one without refined sugar. You can easily make these simple lemonade popsicles without sugar. If desire, you may one of the following ingredients in place of the sugar in these summer fruit pops:
Raw honey
Monk fruit
Stevia
Sugar alternative
Maple syrup
If you use raw honey, monk fruit or maple syrup, then you will use the same amount as the sugar called for in my lemonade fruit juice popsicle recipe. If you prefer less sweet popsicles, then you can decrease the amount of sugar. (Make sure to use raw sugar if you need a vegan recipe.)
When substituting the sugar with a sugar alternative or stevia, you should follow the directions for the alternate that you choose.
Be sure to taste the fruit pop mixture before pouring into the molds for flavor. You can then add more sweetener if needed. Keep in mind, however, that the flavor of these blueberry lemonade popsicles will be more intense before they freeze. Once frozen, they lose a little bit of the sweetness.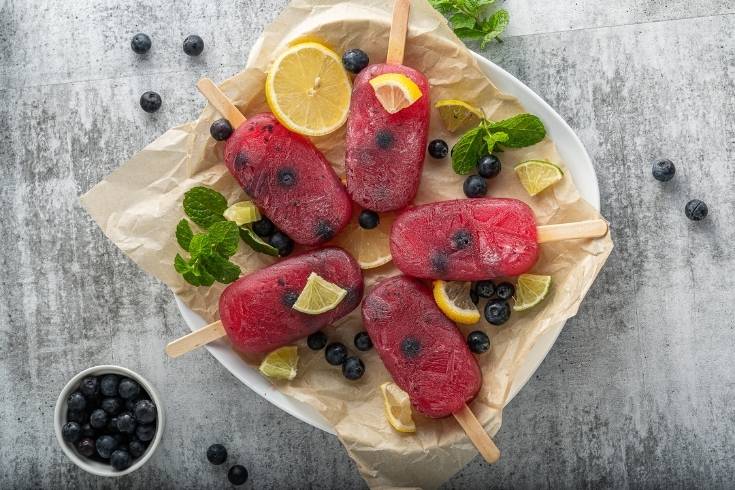 How to Juice Lemons and Oranges Without a Juicer
You'll need freshly squeeze lemon juice and fresh squeezed orange juice to make this frozen summer treat. A fruit juicer is the best way to get fresh juice. However, if you don't have one, you can simply juice an orange or lemon by hand. Follow these steps to extract as much juice as you can by hand to make fruit juice popsicles:
Warm the orange or lemon in the microwave for 20 seconds. This helps soften the fruit so you can extract more juice.
Roll the fruit on a cutting board or on the counter. This helps break up the inside to release more juice.
Cut the fruit length wise using a sharp knife.
Use the lemon to squeeze each half of the fruit over a bowl to catch the juice, removing seeds as necessary.
Variations and Substitutions for Making Fruit Juice Popsicles
I like the fresh blueberries and fruit juice used to make these lemon blueberry popsicles without yogurt. However, you can also make the following substitutions and variations to customize this recipe and make it your own:
Use monk fruit, honey or stevia in place of the sugar.
Replace the blueberries with strawberries or raspberries for pink lemonade popsicles.
You can blend the blueberries for smooth blueberry lemonade popsicles. Keep in mind, though, that this may cause them to get icy.
Replace the lemon and orange juice with lime juice for limeade popsicles.
You can omit the mint and replace it with grated fresh ginger. Or add freshly grated ginger in addition to the mint for a fun flavor twist.
I prefer the mint taste in these lemon blueberry popsicles. If mint isn't your jam, you can easily omit it from these summer fruit pops.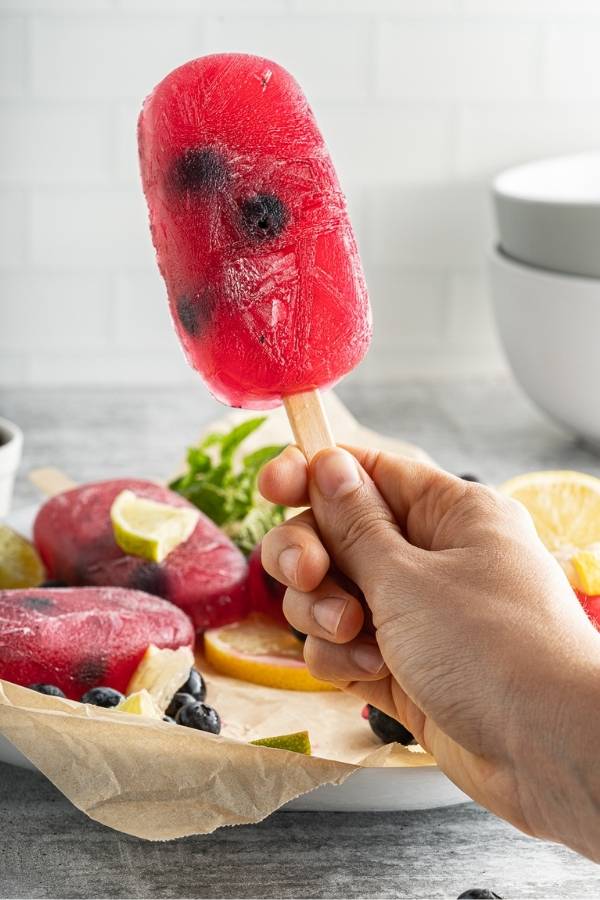 Tips for Making Lemonade Popsicles With Blueberries
If you've never made popsicles with fruit juice, don't worry. It's really easy! However, if you need some help, here are some tips for making lemon blueberry popsicles without yogurt:
I recommend using a silicone popsicle mold because the ice pops will release easier.
Dip the mold in cold water for 30 seconds to loosen the frozen pops. Repeat as needed.
Adding whole fruit will help these blueberry lemon popsicles not be as hard as it breaks up the chunks of ice.
Once these blueberry lemonade popsicles are frozen, remove them from the mold and store in a freezer bag.
How Long Do Fruit Juice Popsicles Last in the Freezer?
These lemon blueberry popsicles will last about three months in the freezer. I recommend that you remove the freezer pops when they are set up and store them in a freezer bag. This way, the blueberry popsicles without yogurt will taste fresher, and you can reuse your mold to make more freezer pops.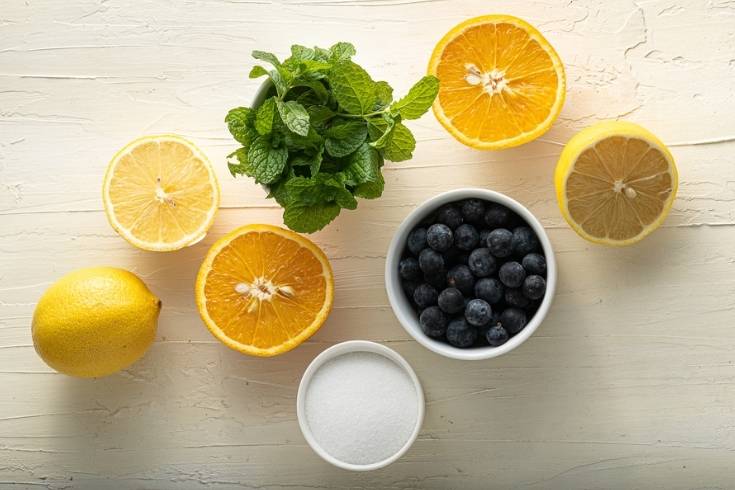 Blueberry Lemon Popsicle Ingredients
Enjoy these blueberry lemonade fruit pops as a delicious summertime treat. These frozen desserts are made with freshly squeezed fruit juice for an authentic flavor with sugar free options available. These are ingredients you will need to make these berry lemon ice pops:
Blueberries: Fresh fruit really makes this recipe! When combined with fresh fruit juice, you get an authentic sweet and sour taste — just like real blueberry lemonade! You can a small amount of these summer berries with the fruit juice for a lovely pink lemonade color.
Fruit Juice: You can make fruit juice popsicles without the fruit! Rather than using prepared juice which is pasteurized and likely contains preservatives, fillers and added sugar, this recipe tastes best and is healthiest when you use freshly squeezed lemon juice. Adding orange juice to these ice pops helps to make the flavors more complex so they meld into a delicious frozen treat.
Sweetener: As these berry ice pops contained unsweetened fruit juice, a sweetener is necessary to keep them from tasting like sour candy. So they taste more like lemonade, you will need to add either sugar, monk fruit or stevia to the concoction.
Mint leaves: Fresh mint gives these fruit pops a little extra zing. If you don't like lemonade with mint, then you can omit this ingredient from the recipe.
How to Make Blueberry Lemonade Popsicles
Follow these steps to make simple lemonade popsicles with real fruit juice and fresh blueberries:
1. To make this vegan popsicle recipe, first juice the orange and two lemons. You can juice the fruit by hand. Or use a juicer.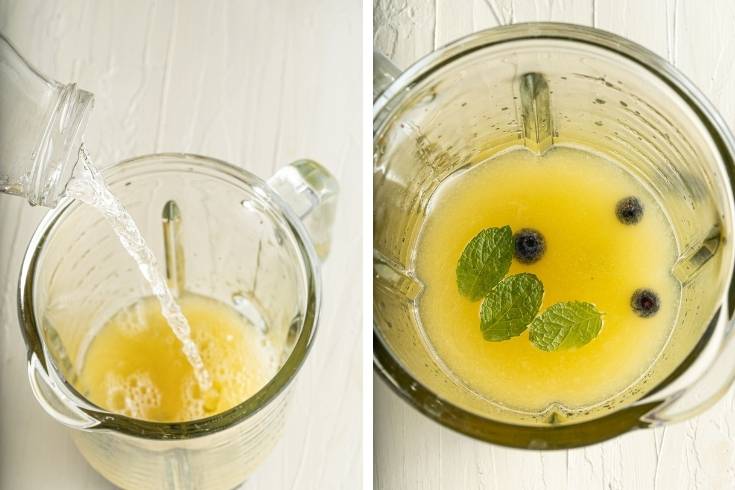 2. Then combine one tablespoon of fresh blueberries, ¼ cup of sugar and three fresh mint leaves with the the fresh juice in a blender. Blend the ingredients until combined.
3. Taste the vegan fruit popsicle mixture. If needed, you may add more sugar. Keep in mind that the flavor will mellow some as they freeze.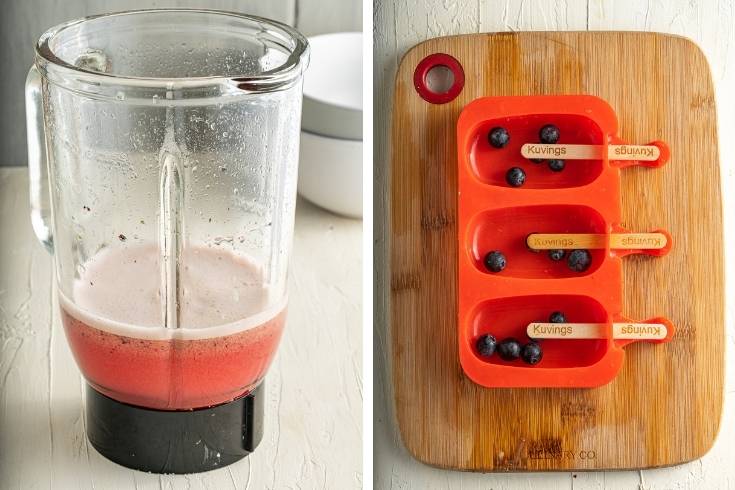 4. Now place the remaining blueberries into each cavity of an empty popsicle mold so they are equally filled. Pour the lemonade mixture over the blueberries and add the popsicle sticks.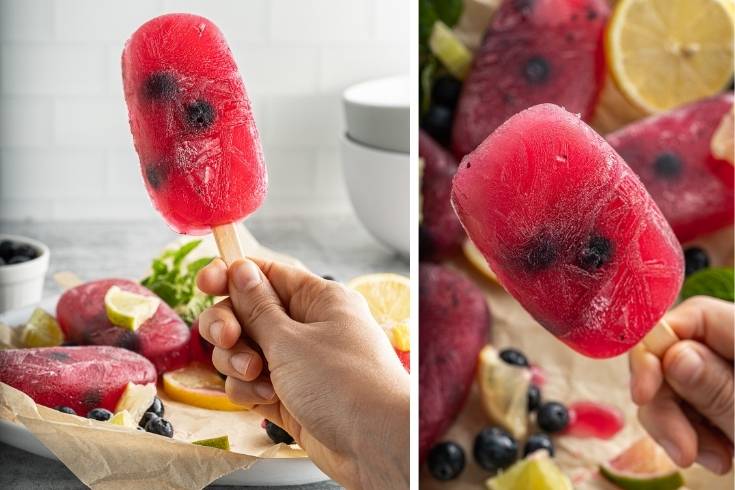 5. Freeze these vegan fruit pops for at least 6 hours, or until completely cold.
Your lemon blueberry popsicles are ready to eat as soon as they are completely frozen. But don't worry if you aren't able to eat them all right away. These vegan popsicles can be frozen for up to three months.
Yield: 6 popsicles
Blueberry Lemon Popsicle Recipe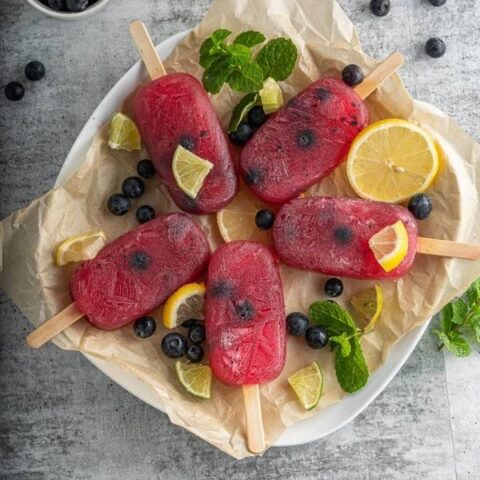 These blueberry lemon popsicles are a delicious summertime treat! Made with real fruit juice and fresh fruit, these vegan berry ice pops taste like lemonade with the perfect balance of sweet and sour.
Total Time
6 hours
10 minutes
Ingredients
½ Cup + Tablespoon fresh blueberries
One large orange
Two lemons
¼ Cup granulated sugar
3 Fresh mint leaves
Instructions
Juice the orange and two lemons. Pour into a blender. Then add 1 tablespoon of fresh blueberries, ¼ cup of sugar and three mint leaves. Blend until combined.
Taste the mixture and add more sugar as needed. Keep in mind that the flavor will be less intense once combined with the remaining fruit.
Evenly divide the remaining blueberries between each six empty popsicle mold cavities.
Pour the lemonade mixture over the blueberries and add the popsicle sticks.
Freeze for at least 6 hours or until completely cold.
Notes
To make a variation of these berry ice pops, replace the blueberries for other kinds of berries. You can use multiple types of berries, or try strawberries for strawberry lemonade popsicles.
For low-carb popsicles with reduced sugar, substitute the sugar with the same amount of granulated monk fruit.
Nutrition Information:
Yield:
6
Serving Size:
1 vegan fruit pop
Amount Per Serving:
Calories:

65
Total Fat:

0g
Saturated Fat:

0g
Trans Fat:

0g
Unsaturated Fat:

0g
Cholesterol:

0mg
Sodium:

3mg
Carbohydrates:

17g
Fiber:

2g
Sugar:

13g
Protein:

1g
Fruit Popsicle Recipes
If you enjoyed my recipe for blueberry lemonade popsicles, then be sure to try my other amazing vegan fruit popsicles recipes. They're a tasty way to cool off and provide your body with extra vitamin C and antioxidants!
Want more tasty ways to enjoy the flavors of summer? My antioxidant berry smoothie is another great way to enjoy fresh, summer fruits! Also be sure to try these other summer food and dessert recipes. Or, simply follow Becca Ink on Pinterest, Facebook and Instagram for additional ideas.