Start your day off with a delicious and nutritious antioxidant berry smoothie! Packed with the antioxidants naturally found in raspberries, strawberries and blueberries, this berry smoothie recipe has many wonderful nutritional benefits that promote daily health and wellness in addition to beautiful, clear skin.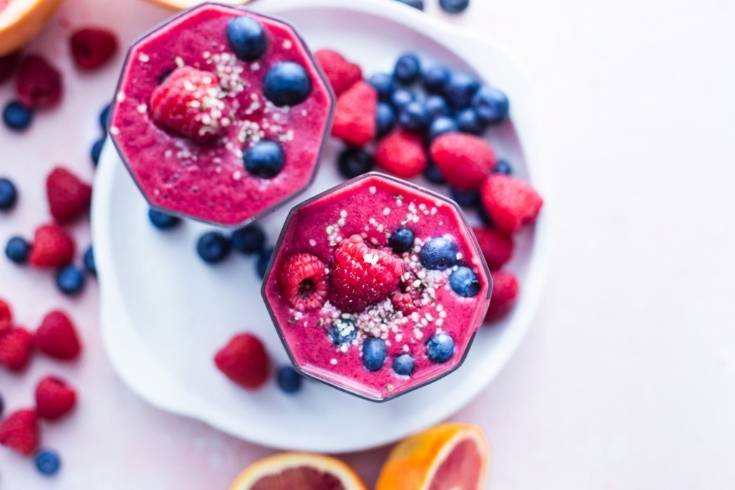 Antioxidant Berry Smoothie
If you're like me, you to remain healthy and active. You do your best to eat well and remain active. However, just because you're doing the right things for your body doesn't mean it can't be delicious! This antioxidant berry smoothie has all the components for a healthy drink that's both good for you and tastes amazing. It's rich in all the nutrients you need to keep your body strong and thriving. Not only will your body love this smoothie, but your taste buds will also be happy with the amazing blend of summer berry and grapefruit flavors.
This healthy smoothie is a whole foods, plant-based drink that even the kids will enjoy. It is a favorite throughout the summer months when fruit is in season. However, it's also a great way to enjoy a tasty treat in winter. Simply opt to use frozen fruit in this berry smoothie recipe in the winter months when fresh berries are out of season.
Keep reading to learn all the wonderful benefits of this antioxidant smoothie. Plus, grab the recipe and discover some great superfood options that you can to your smoothies to give them an additional nutritional boost.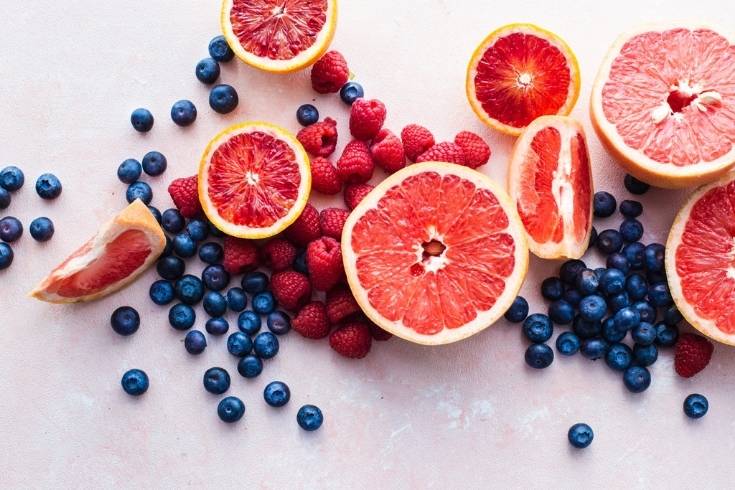 What are Antioxidants?
Antioxidants are powerful nutrients present in primarily plant foods such as berries and chocolate. These vitally important substances are key in our diet to help fight off free radical damage.
Research shows that supplementing antioxidants in a synthetic form does not help decrease cancer risks as once believed. With mixed research on supplementation, it's more important than ever to ensure you eat a healthy diet with whole foods that naturally contain these substances. An antioxidant berry smoothie is a simple, yet effective way to increase your intake of antioxidants.
What are Free Radicals?
Free radicals are highly unstable molecules that are formed when we eat or even exercise. We can also be exposed to free radicals from our environment. This exposure can cause "oxidative stress", which can trigger cellular damage. Antioxidant molecules have been shown to counteract oxidative stressors in laboratory experiments.
We are exposed to free radical exposure from our environment and diet through the following:
Consuming fried foods
Drinking Alcohol
Exposure or ingestion of tobacco smoke
From air pollutants
Exposure to pesticides on our food and plants
This free radical damage must be kept to a minimum so that the antioxidants we consume in our diet can keep this damage in check. If free radical and oxidative stressors become too much for the body to handle it can possibly lead to these conditions:
Cardiovascular disease due to clogged arteries
Cataracts and age-related vision decline
Loss of skin elasticity, wrinkles, graying hair, hair loss, and changes in hair texture
How to Reduce Exposure to Free-Radical Damage
Eliminate or reduce fried foods.
Quit smoking if you are a smoker.
Increase the consumption of antioxidant-rich foods by eating lots of fruits and vegetables.
Limit exposure to toxins in your environment from household .cleaning products and personal hygiene products.
Eliminate or use protective gear for lungs and body when dealing with harmful chemicals.
Eat organic fruits and vegetables whenever possible.
What Foods Are Rich in Antioxidants?
In order to make an antioxidant smoothie, you need to include foods rich in antioxidants when formulating a recipe. Some common foods that are rich in antioxidants include:
Red berries
Dark, leafy green vegetables
Purple fruits and vegetables
Bright oranges and citrus fruits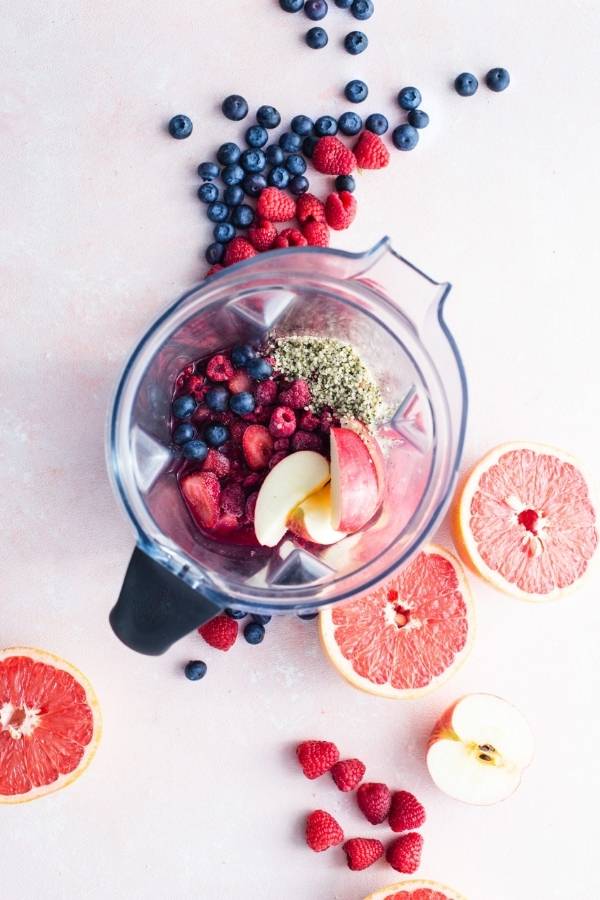 Antioxidant Smoothie Benefits
Berry smoothies provide a number of excellent nutritional and health benefits making them incredibly good for you. Here are some of the advantages you may experience when partaking in smoothie recipes rich in antioxidants:
Vitamin C assists in the growth and repair of body tissue. It also supports the immune system and helps with the absorption of iron.
Beta-carotene provides protection for both skin and eyes from damaging ultra-violet light.
Vitamin E works to maintain stores of vitamins A and K, iron and selenium. It also helps with the production of red blood cells.
Flavonoid compounds are one of the most readily available antioxidants found in food. They are present in tea, red wine, cocoa powder and soybeans as well as all fruits and vegetables. Flavonoids support the immune system and reduce the risk of heart disease.
Lutein, which is found primarily in dark, leaf green vegetables, supports eye health.
Tomatoes, watermelon, pink grapefruit, guava, papaya, apricots and blood oranges are all rich in Lycopene, which is believed to aid in the prevention of certain types of cancers, including prostate cancer.
When you consume cocoa, green tea, black tea or dark grapes, you're getting the antioxidants known as catechins. These natural polyphenolic phytochemicals protect against both skin and stomach cancer. It also helps to reduce your risk of heart disease.
Anthocyanins are colored water-soluble pigments belonging to the phenolic group found in high amounts in berries, currants, grapes and some tropical fruits. Like many other antioxidant rich compounds, anthocyanins help support the immune system.
Both lignans and isoflavones are phytoestrogens that play a role in hormone health. Lignans, which are found in the berries used to make antioxidant smoothies, may reduce certain hormone-related cancers as well as support healthy cholesterol. While isoflavones help to maintain bone density, and reduce symptoms of menopause.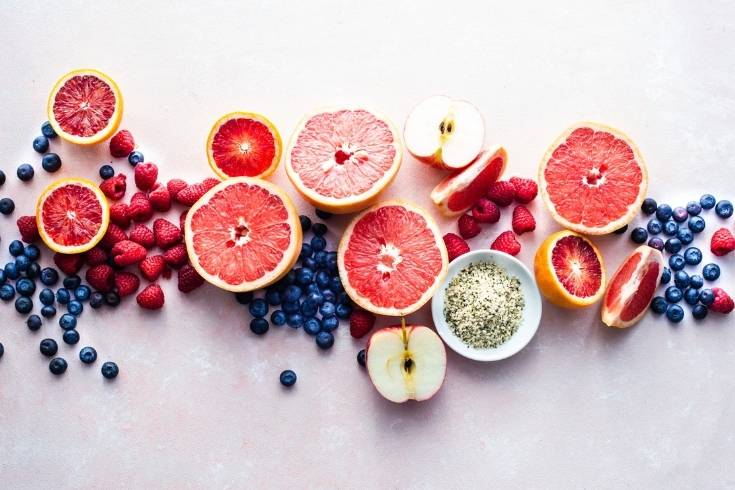 Antioxidant Smoothie Ingredients
This antioxidant smoothie primarily consists of organic berries and citrus fruits. These are the ingredients you need to make a tasty berry smoothie recipe rich in antioxidants to support over wellness and clear skin:
Grapefruits: This low calorie food contains a significant amount of antioxidant as well as fiber, vitamins and minerals. Not only does it support heart health, but it also has skin benefits and supports immune health.
Oranges: I specifically used blood oranges for this berry smoothie recipe. However, if you don't have access to blood oranges, you may use whatever is available to you. Oranges are best known for their high vitamin C content. However, this citrus fruit also contains fiber that helps manage blood sugar levels and keep cholesterol in check.
Raspberries: Known as an antioxidant powerhouse, this berry is packed with Omega-3 fatty acids and potassium which aid in the prevention of heart disease. In addition, they also contain manganese. This mineral is necessary for healthy bones and skin. It also helps to regulate blood sugar.
Blueberries: This low-calorie, antioxidant rich berry is high in fiber, vitamin C, vitamin K and the plant compound anthocyanin. This superfood promotes both heart and skin health, bone strength and may help with cancer prevention. Additionally, blueberries also help to maintain healthy blood pressure and blood sugar levels.
Strawberries: Another excellent superfood and a common ingredient in berry smoothie recipes, strawberries contain high amounts of necessary vitamins, fiber, and antioxidants known as polyphenols. Another low-calorie food, this fruit helps protect against heart disease, increases your good cholesterol, lowers blood pressure, and may guard against cancer.
Hemp Seeds: Much like berries, hemp seeds also contain high levels of antioxidants. They are a great source of Omega-3 fatty acids as well as protein, fiber and vitamins and minerals. This ingredient is used to make an antioxidant smoothie for clear skin thanks to the Omega-3's and anti-inflammatory properties. It is also great for heart health.
Apples: This popular smoothie fruit is abundant in both fiber and antioxidants. Not only do they promote weight loss and improve both brain and gut health, but apples are also linked to a lower risk of diabetes, heart disease, and cancer.
Can I Use Frozen Fruit to Make Berry Smoothies?
If you don't have fresh organic berries on hand, frozen fruits work well as a substitute and are just as delicious. I tend to use frozen organic berries in this drink recipe during the winter months as the fresh ones are relatively expensive. Plus, they simply don't taste as good as they do in the summertime.
Do I Have to Use Fresh Squeezed Juice to Make Antioxidant Smoothies?
Freshly squeezed grapefruit and/ or orange juice is a must when making an antioxidant berry smoothie. I know that it takes a little extra effort to juice fruits. However, you are not getting the same level of the antioxidant vitamin C and live enzymes from store-bought juice. This is because manufacturers must pasteurize the juice before it can be sold on grocery store shelves.
In order to skirt the removal of vitamin C that occurs during the pasteurization process, companies add a vitamin C supplement afterwards. Unfortunately, this isn't the same as what comes from the natural source. Therefore, I highly recommend that you opt for fresh squeezed juice to make homemade smoothies wherever possible.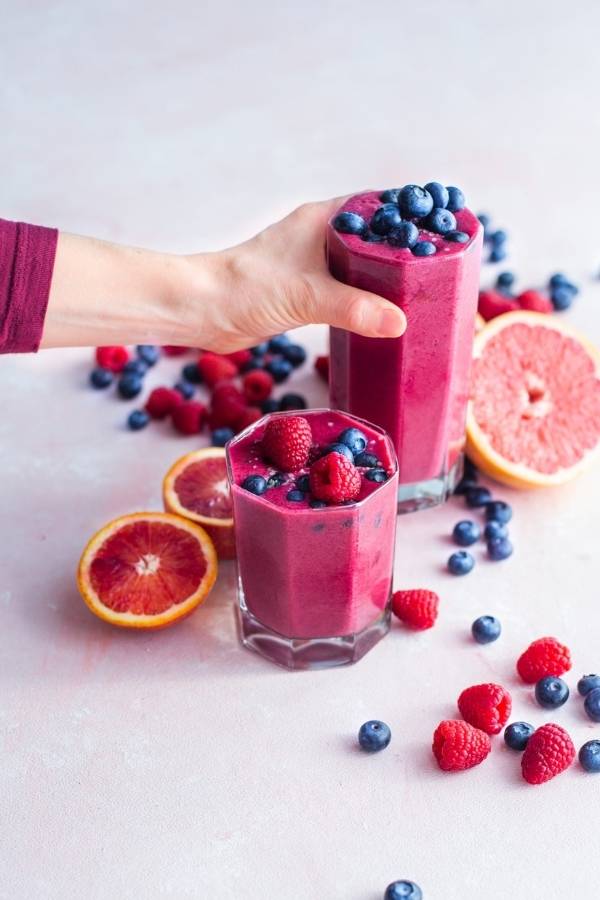 Superfood Berry Smoothie Boosters
In addition to the ingredients called for in my antioxidant berry smoothie recipe, you can also add any of the following superfoods to provide an added nutritional boost:
Spinach, kale, or dandelion leaves are all dark leafy greens rich in antioxidants. Each of these superfoods adds their own unique nutritional content to the antioxidant smoothies that you make.
Vegan protein powder is a great way to increase your protein in the foods you drink. Both Botanica Health and Garden of Life sell quality, plant-based protein powders.
Greens powder makes another great addition to your berry smoothie recipes. Especially if you don't consume enough vegetables during meals. Purely Inspired and Amazing Grass are both popular brands.
Plant-based omega oils are great for brain health! Plant based oils rich in Omega-3's include flaxseed oil, soybean oil, walnut oil, canola and hemp seed oil.
Chlorella or Spirulina helps detox heavy metals from the body. Spirulina powder is a blue-green algae and a major source of protein. It contains 65% amino acids, including the essential fatty acid gamma linolenic acid (GLA) as well as essential vitamins and minerals that are necessary for healthy skin and hair.
Turmeric is a wonderful superfood. It's especially beneficial at helping to reduce inflammation. (And part of why it's a key ingredient in golden milk.) In addition to reducing inflammation, turmeric also helps to regulate blood sugar and improve digestion, support immune health, and aid in memory, mood and brain function.
Collagen is great for skin and hair! I like to mix in Unflavored Vital Proteins Collagen Peptides Powder with Hyaluronic Acid and Vitamin C to make this smoothie extra beneficial for skin and hair. It's an easy way to increase both your collagen protein intake for healthy, glowing skin as it contains 18 grams of protein and 20 grams of collagen. However, this addition cannot be used to make a vegan smoothie as it does contain bovine. If you prefer a plant based option, you many add Unflavored Amazing Grass GLOW Vegan Collagen Support to your fruit smoothies. This product contains 15 grams of plant based protein per serving along with biotin to support collagen production. Or try this clear skin smoothie recipe.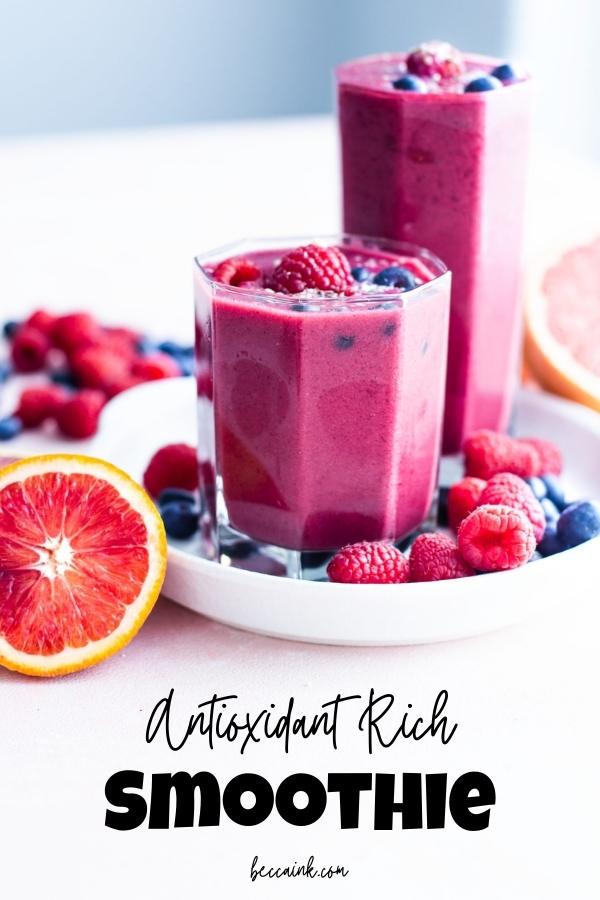 How to Make an Antioxidant Berry Smoothie
Now that you're aware of the benefits of an antioxidant smoothie, let's learn how to make this delicious berry smoothie recipe! Here is how to create this amazing drink to enjoy throughout the day:
First, juice the grapefruits and oranges using a citrus juicer. (You can use either a manual juicer or an electronic one.) You want 1 1/2 cups of juice total for this antioxidant berry smoothie.
Next, cut the apple in half and remove the core. Then cut the apple into smaller pieces, about 1/2″ in size. You don't need to peel the apple as the peel contains beneficial fiber, vitamins and nutrients. However, if you plan to include the peel in your antioxidant smoothie, it's especially important to choose organic produce.
Once you've prepped the citrus fruits and apple, combine the grapefruit and orange juice in a blender along with raspberries, blueberries, raspberries, strawberries, apple and hemp seeds.
If desired, add any additional powders, greens or your favorite super foods, which you can find listed above, to the blender with the fruit.
Blend the berry smoothie ingredients on high until the mixture is smooth.
Pour the antioxidant smoothie into two glasses, then server. If you like you can serve this healthy drink with a reusable straw. (Grove sells a wonderful selection of both reusable glass and silicone straws. If you're a first time Grove customer, you can receive a free, eco-friendly gift set with any $20 purchase. Simply sign up here.)
Yield: 2 servings
Antioxidant Berry Smoothie Recipe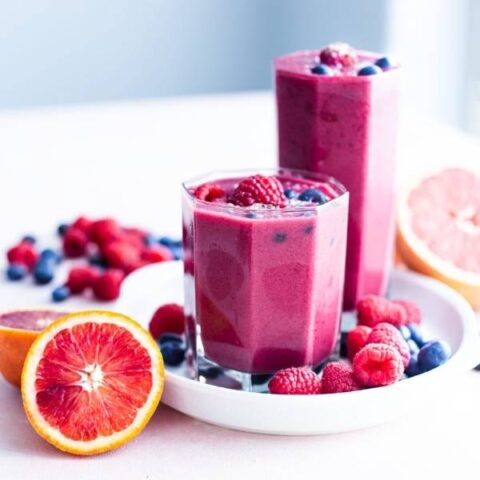 Packed with antioxidants, this berry smoothie recipe has many wonderful nutritional benefits that promote daily health and wellness as well as clear skin. Make this antioxidant smoothie for a delicious way to care for your body from the inside out.
Ingredients
2 Large grapefruits
2 Blood oranges
1/2 cup Raspberries, frozen or fresh
1/2 cup Blueberries, frozen or fresh
1/2 cup Strawberries, frozen or fresh
2 Tablespoons Hemp Seeds
1 Apple
Instructions
Juice grapefruits and oranges with a citrus juicer. Should make 1 1/2 cups juice.
Cut and core apple.
Pour grapefruit and orange juice along with raspberries, blueberries, raspberries, strawberries, apple and hemp seeds into blender.
Feel free to add in other powders, greens or your favourite super foods.
Blend on high until smooth.
Notes
For extra cold smoothies, that are more semi-solid than liquid, I recommend that you use at least 50% frozen fruit to make this healthy antioxidant drink. If you aren't using frozen fruit, you can pop the fresh fruit in the freezer overnight before making this detox smoothie the next day.
This antioxidant berry smoothie recipe is naturally sweet due to the sugar found in the fruit. Therefore, you do not need to add additional sweeteners to this fruit smoothie. If you have a sweet tooth and prefer a sweeter taste, you may add a Tablespoon of raw honey or date sugar to the recipe.
As with other berry fruit smoothies, this drink is best served while still cold. If you have leftovers, you may store this mixture in the refrigerator overnight to enjoy the next day.
Nutrition Information:
Yield:
2
Serving Size:
1
Amount Per Serving:
Calories:

326
Total Fat:

6g
Saturated Fat:

1g
Trans Fat:

0g
Unsaturated Fat:

5g
Cholesterol:

0mg
Sodium:

4mg
Carbohydrates:

70g
Fiber:

14g
Sugar:

45g
Protein:

7g
If you love this antioxidant smoothie for skin, then be sure to also try this glowing skin smoothie. This healthy drink recipe is a wonderful way to detox skin and nourish cells. So, you get clear skin that looks amazing, while also providing antioxidants and nutritional support. Therefore, if you're looking for an excellent detox smoothie for clear skin, this is it!
You may also want to try my mango and pineapple mocktail for another great way to enjoy the antioxidant benefits of fruit. Or, explore more plant based recipes by following Becca Ink on Pinterest, Facebook and Instagram.