There's nothing better than the warm and comforting flavors of fall. This roasted pumpkin soup is the epitome of season. Vegan, with a touch of sweetness, this homemade soup makes a delicious, creamy dinner or side dish.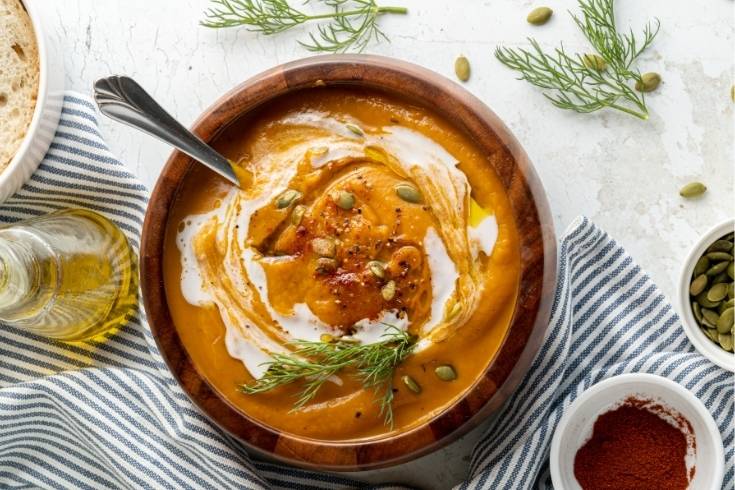 Roasted Pumpkin Soup with Coconut Milk
There's so much wonderful flavor to be discovered in this fall soup. Roasting the pumpkin to make this recipe gives this dish a unique and slightly sweet flavor that varies from similar meals in which the pumpkins aren't roasted. While the addition of coconut milk gives this creamy recipe a wonderfully soft texture and light coconut taste. Add a touch of maple syrup and cinnamon, if desired, for a truly wonderful flavor profile. Not a fan of coconut? Try whipped cream as an exciting variation that's reminiscent of homemade pumpkin pie.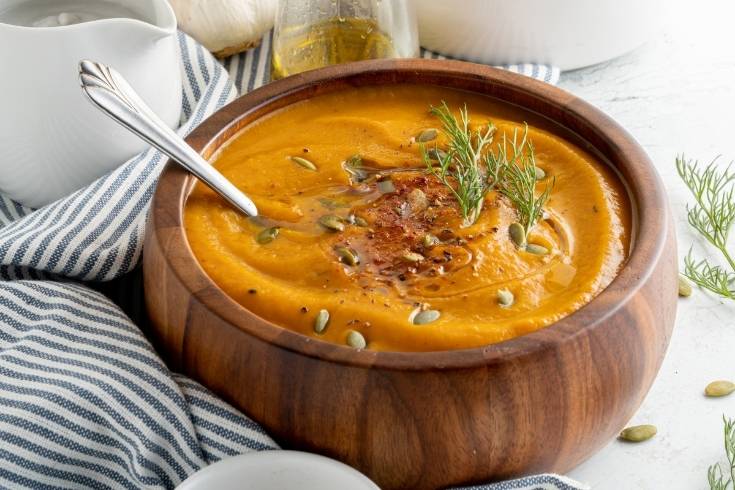 Should I Roast Pumpkins for Soup?
Some coconut milk pumpkin soup recipes call for boiling the pumpkins to cook them. Making soup this way is delicious. However, this soup recipe offers a uniquely different flavor. Roasting the pumpkin really changes the way the it tastes. Roasting pumpkins, rather than boiling them, gives them a sweeter flavor profile versus a more savory dish.
What Pumpkins Are Best for Soup?
Choosing the right pumpkin for your roasted pumpkin soup will give you the best outcome when making this vegan soup. I recommend using the winter squash, kabocha.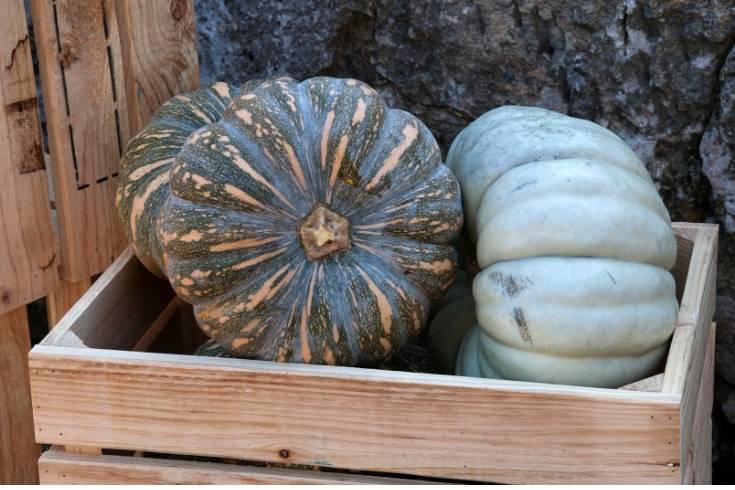 This Japanese pumpkin is also called the Jap or the Kent pumpkin, which is one of many varieties of kabocha. It has a green/gray skin mottled by yellow and brown and a nutty flavored, soft, yellow/orange flesh that's drier than most.This variety is particularly well suited for roasting. So, it makes a great choice for seasonal soups. However, you can also use a Queensland blue pumpkin, a golden nugget pumpkin or butternut squash.
Butternut pumpkin (also called butternut squash) is a popular choice as it's easy to find year round. This pear-shaped pumpkin is usually light tan in color. Like the Kent pumpkin, it also has a dry flesh. Sweeter than the Kent, however, this option also makes a wonderful addition to soups and does well when roasted.
Queensland blue pumpkins are similar to the other types previously discussed. They too are hard pumpkins that work well in soup recipes. A large ribbed pumpkin with gray skin, this winter squash has a deep orange flesh and is great for making soup.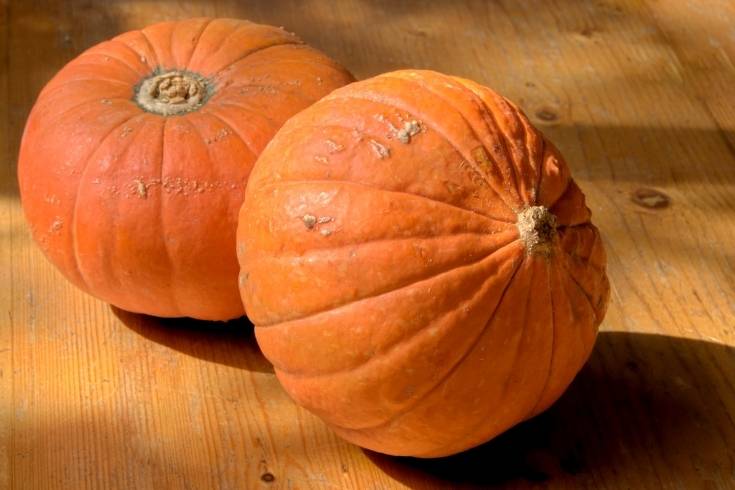 Golden nugget pumpkins are a smaller sized squash that are wonderful for roasting. Similar in size to an acorn squash though not the shape, this variety has a yellow-golden flesh and deep orange exterior. It's also called an Oriental pumpkin.
Regardless of the pumpkin you choose to make this seasonal fall soup, you'll want to use a harder pumpkin that does have a dry flesh. A pumpkin that is too soft can water down the soup, causing it to lose its rich, creamy texture.
What Pumpkin is the Sweetest?
There are a number of sweet pumpkins that are great for cooking. Butternut pumpkins, Dumpling pumpkins, Kent, Golden Nugget and Queensland blue pumpkins are all sweet pumpkins. Personally, I prefer to use the Kent pumpkin for my fall recipes. However, you can use any of these varieties that you like.
Which Pumpkin is Better for Roasting?
The butternut pumpkin is great for roasting because it holds its shape well after cooking. However you can choose a sweeter pumpkin for this roasted pumpkin soup recipe. The butternut roasts well and tastes great in this recipe. It's also more readily available throughout the year. but the Kent and Queensland blue pumpkins are sweeter.
Do You Have to Peel Pumpkin Before Roasting?
No, you shouldn't peel a pumpkin before roasting. Besides, it's easier to remove the peel after the pumpkin roasts. The peel is edible, so you can eat it if you want. Just make sure that you've properly cleaned the pumpkin to remove dirt from traveling and being in the store.
How Do You Roast Pumpkin So It Doesn't Get Soggy?
There are a few tricks that you can use when roasting your pumpkin for this vegan roasted pumpkin soup. Use a pan with low sides like a cookie sheet. High sides, like a 9×13 casserole dish has, will trap steam and water. This can cause the pumpkin to get soggy.
Pumpkins can also get soggy when they are cooked too low. You want to roast the pumpkin at 400 to 425 degrees Fahrenheit. This will caramelize the sugars in the roasted pumpkin for the rich flavor.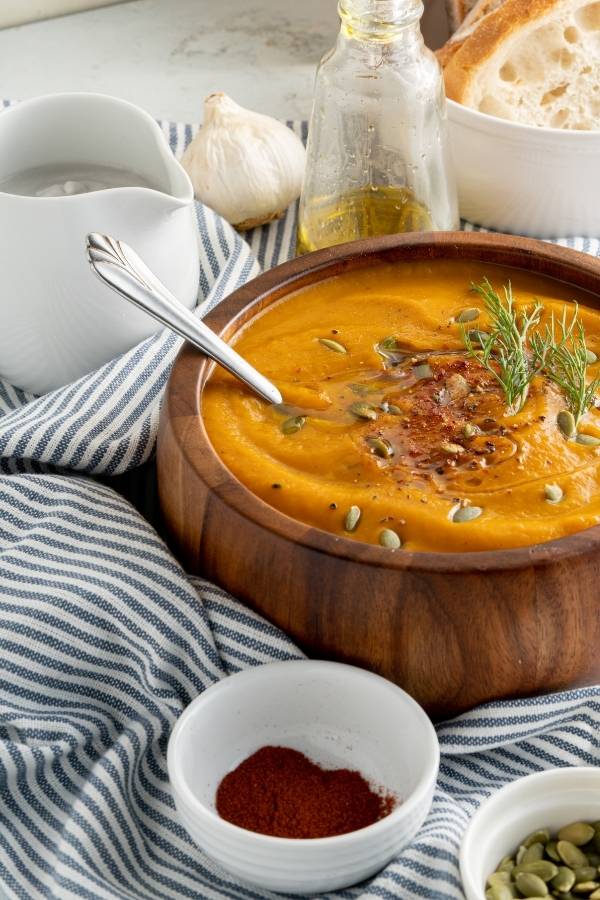 Tips for Cooking Roasted Pumpkin Soup
Here are some tips to keep in mind when you make this vegan roasted pumpkin soup:
Save the pumpkin seeds. Roast them at 275 degrees Fahrenheit for 35 to 40 minutes for a delicious healthy snack. I give them a quick stir every 10 minutes so they bake evenly.
Roasting the pumpkin brings out the delicious flavor and makes it taste richer and sweeter. For a savory soup, boil the pumpkin instead.
Taste the roasted pumpkin soup before adding any sweetener. If you used a sweet pumpkin, you may not need to add the maple syrup unless that's your preference.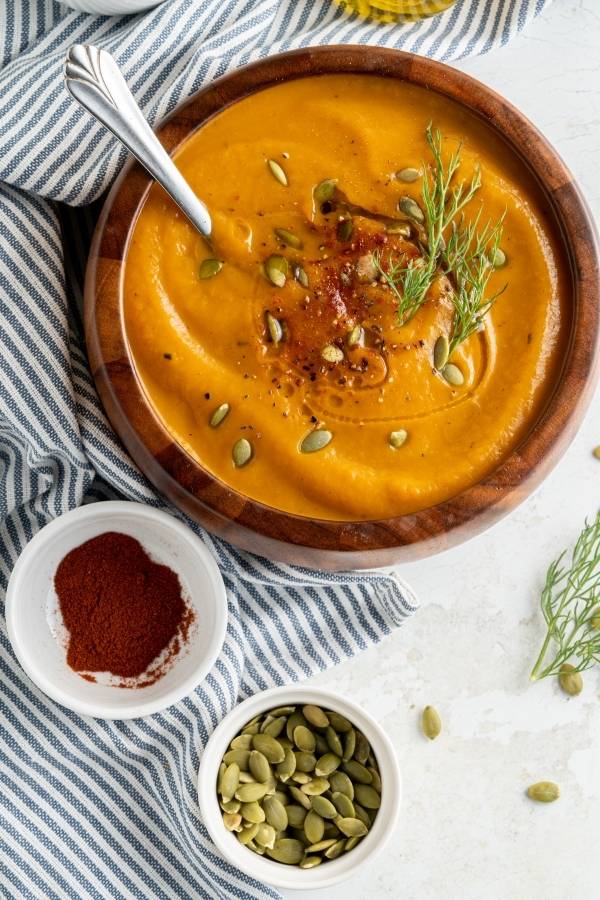 Variations for This Fall Soup
This delicious vegan soup recipe can be served hot or cold. It tastes great both ways, so it really is just a matter of personal preference. For a more robust taste, you can also experiment with this dish. Try adding leeks, parsnips or even carrots to beef the recipe. You can also add roasted apples or quinoa for protein.
In addition to coconut milk, you can also top this gluten free fall soup with pumpkin seeds (pepitas) or spices to taste to make this fall recipe your own. Spices such as nutmeg, cinnamon, allspice, cloves, ginger, chili powder, Cajun spice, cayenne, pepper, and vanilla are great options. While savory nuts like almonds, pecans, walnuts, hazelnuts, rice, and oats also blend well with pumpkin.
Don't like coconut milk? You can either omit it entirely or substitute it with homemade almond milk, oat milk, rice milk, hemp milk or soy milk. (Learn how to make nut milk at home.)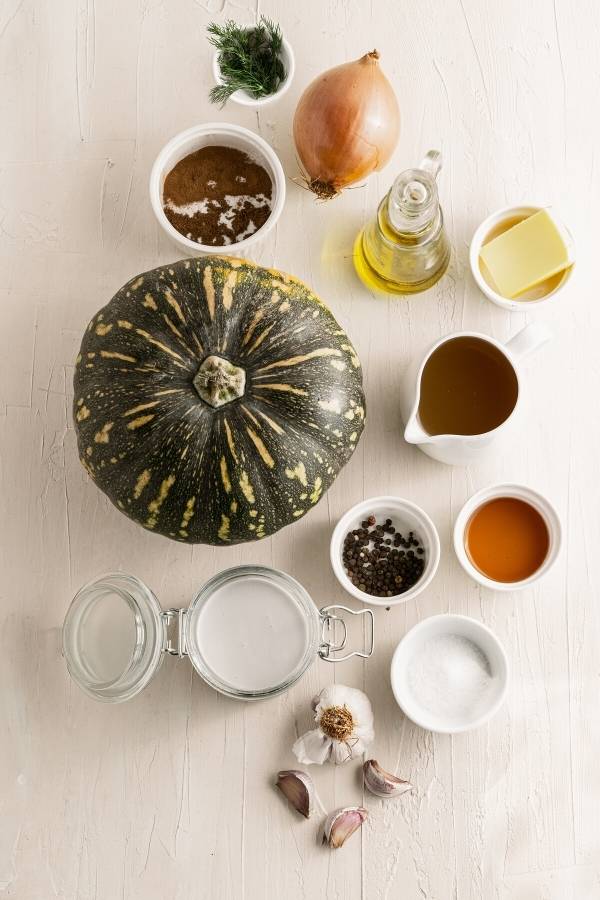 Vegan Pumpkin Soup Ingredients
The roasted vegetables in this vegan soup recipe are key to an amazing pumpkin soup. While the coconut milk adds an extra layer of creaminess and taste. Here are the ingredients you will need to make this fall recipe:
Small pumpkin head
Olive oil
Yellow onion
Fine sea salt
Garlic cloves
Ground nutmeg
Ground black pepper
Gluten free vegetable broth
Vegan butter (you can use real butter if you aren't following a vegan diet)
Ground cinnamon
Optional Ingredients:
In addition, you can also add maple syrup to taste, for extra sweetness. Then serve this roasted pumpkin soup with these tasty extras, if desired:
Canned coconut milk, to suit

Pumpkin seeds (pepitas)
Fresh dill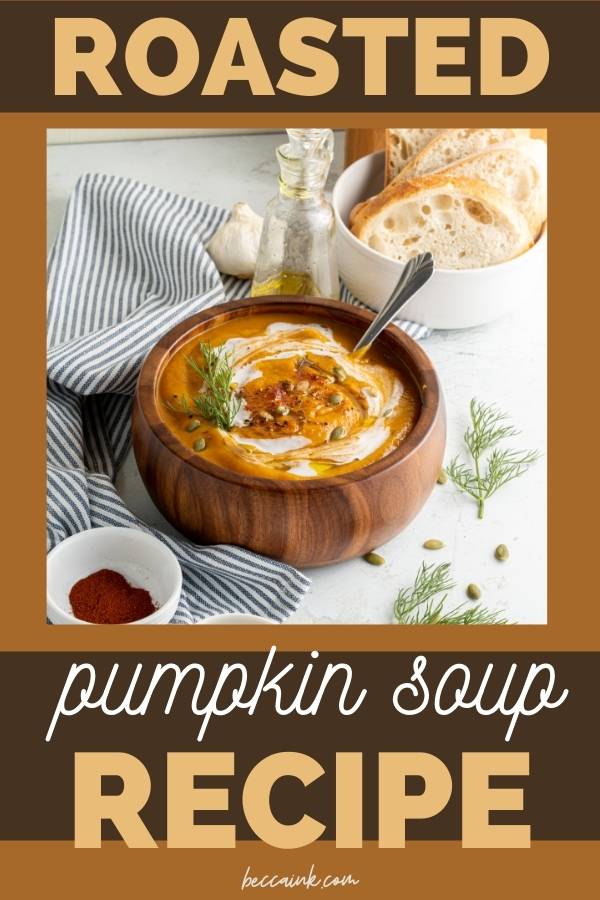 How to Make Roasted Pumpkin Soup
Ready to enjoy some appetizing autumn flavors? Here's how to make this roasted pumpkin soup recipe:
1. You will start to by roasting the pumpkin you've chosen. To do this, first preheat the oven to 400 degrees Fahrenheit.
2. While the oven preheats, chop the pumpkin into large pieces. (There's no need to remove the skin.) Then scoop out the seeds and reserve for making roasted pumpkin seeds later.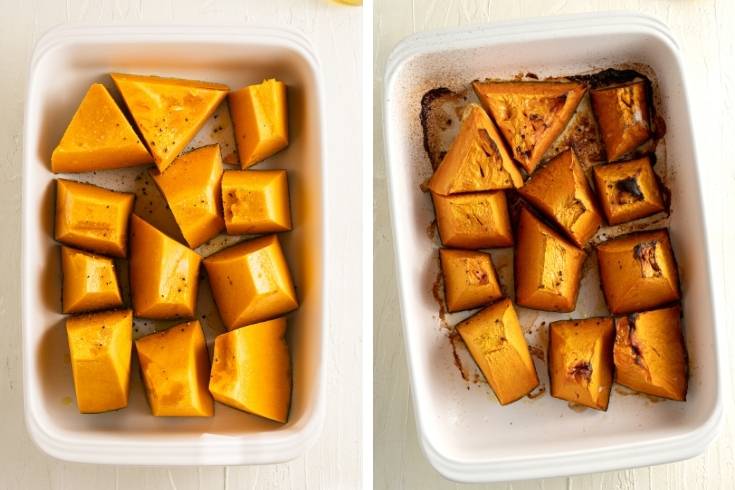 3. Place the chunks of pumpkin into an oven-safe tray. Arrange them so that the peel rests on the bottom of the roasting tray, if possible. Then roast the pumpkin in the pre-heated oven for 30 minutes, or until the pieces are fork-tender.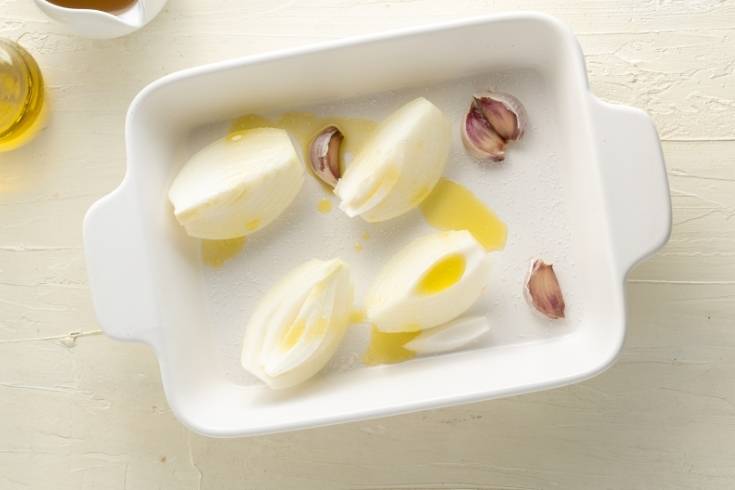 4. While the pumpkin bakes, remove the peel from the onion. Then chop into quarters. Place the onion and garlic cloves into another oven-safe tray. Add a drizzle of olive oil to the onions. Then roast the vegetables for 10-15 minutes, or until translucent and tender. (You can simply add the vegetables to the oven while the pumpkin is baking for the last half of the roast time.)
5. Remove the roasted pumpkin and vegetables from the oven. Allow to cool slightly, then remove the peel from the garlic gloves. Taking care to avoid burns, combine the ingredients in a large saucepan.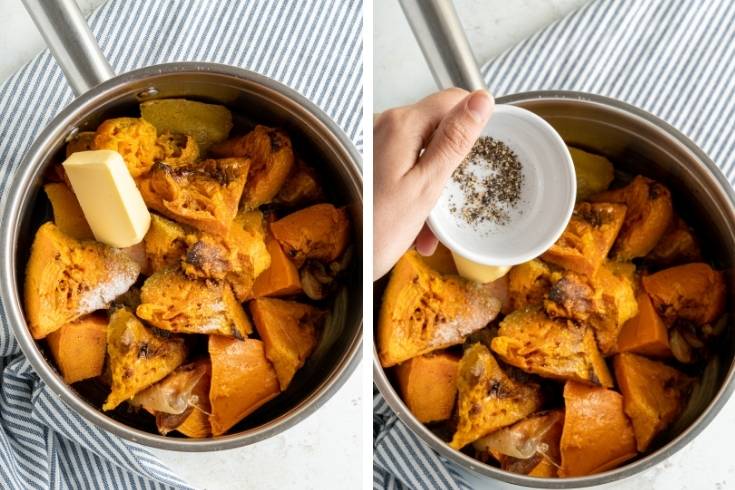 6. Now add the gluten free vegetable broth, salt, nutmeg, ground black pepper, and vegan butter to the pan. Steam the ingredients for 10 minutes.
7. Allow the ingredients to cool slightly. Then process them either in batches or using an immersion blender. Mix until smooth. Now stir in the ground cinnamon. Taste the soup. You can then add the optional maple syrup, if needed.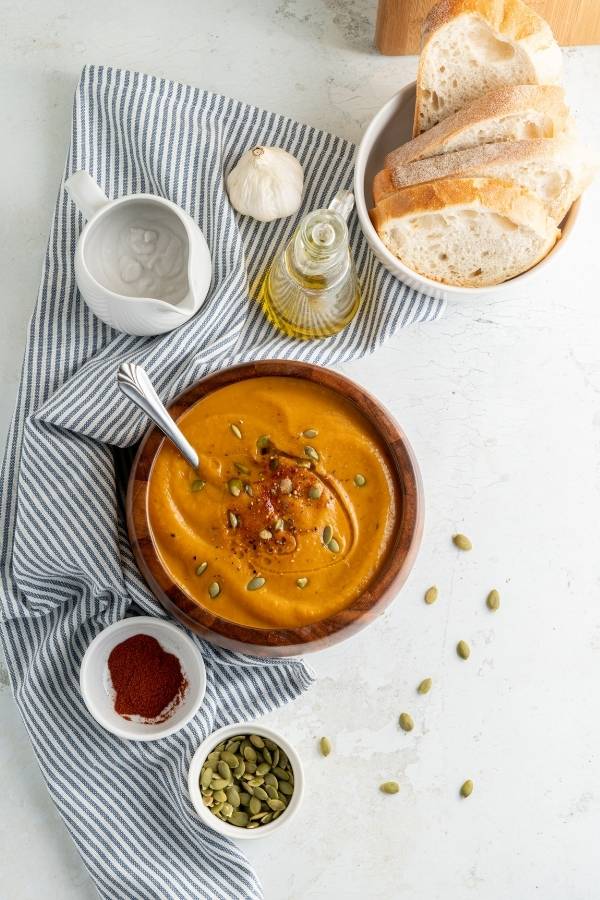 Serving Suggestion
This roasted, vegan pumpkin soup is wonderful served warm with a swirl of coconut milk, then topped with pepitas (pumpkin seeds) and coarsely chopped dill. However, you can also serve it with any of the variations previously mentioned.
Simply mix the can of coconut milk, then drizzle it onto the soup. Use a spoon to swirl it into the soup for a beautiful presentation. Then add the pepitas and dill to complete the dish.
Yield: 4 servings
Roasted Pumpkin Soup Recipe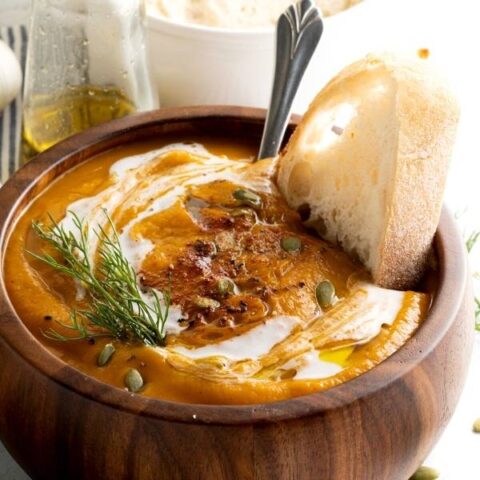 This sweet, roasted pumpkin soup with coconut milk is rich, creamy and full of flavor. Both gluten free and vegan, it's a delicious way to savor the flavors of fall!
Ingredients
Pumpkin Soup
1 small pumpkin head
1 Tablespoon olive oil
1 yellow onion, chopped
1 teaspoon salt
4 garlic cloves, chopped
⅛ teaspoon ground nutmeg
½ teaspoon ground black pepper
3 Cups vegetable broth
1 Tablespoon vegan butter
½ teaspoon cinnamon
1 teaspoon maple syrup, optional
To Serve
Canned coconut milk
Pumpkin seeds
Fresh dill
Instructions
Preheat the oven to 400 degrees Fahrenheit.
Chop the pumpkin into large pieces, remove the seeds.
Place the pumpkin into an oven-safe tray, with the peel touching the base of the tray, if possible. Bake the pumpkin for 30 minutes or until fork-tender.
Peel the onion, then chop into quarters. Place them with the garlic cloves into another oven-safe tray. Add a drizzle of olive oil to the onions. Then bake for 10-15 minutes or until translucent and tender.
Place roasted pumpkin, roasted onion, and garlic cloves (with peel removed) into a large saucepan.
Add the vegetable broth, salt, nutmeg, ground black pepper, and vegan butter. Steam for 10 minutes.
Allow to cool slightly, then process all the ingredients in batches or use a hand blender to mix the until smooth. Then add ground cinnamon. Mix then taste. Add maple syrup, if desired.
Notes
If you aren't following a strict vegan diet, you may substitute the vegan butter with real butter. Likewise, you can also swap out the coconut milk with regular whipping cream.
To reduce waste, you can use the pumpkin seeds your remove as a snack. Place them in an oven tray and bake them at 275 degrees Fahrenheit for 35-40 minutes. Shake the tray every 10 minutes to get an even crunch, Then season with salt. 
Nutrition information provided is for the fall soup only, without the addition of maple syrup, coconut milk, pepitas and dill.
Nutrition Information:
Yield:
4
Serving Size:
1 serving
Amount Per Serving:
Calories:

94
Total Fat:

7g
Saturated Fat:

2g
Trans Fat:

0g
Unsaturated Fat:

4g
Cholesterol:

8mg
Sodium:

1053mg
Carbohydrates:

9g
Fiber:

1g
Sugar:

3g
Protein:

1g
Storing Leftovers
Store leftovers in an airtight container in your refrigerator for up to five days. If you prefer, you can also freeze this recipe. Frozen soup will keep for up to 3 months.
If soup is too thick after storage, you may add a small amount of water or coconut milk when reheating. Alternately, for thin soup, simmer on the stovetop to reduce and thicken.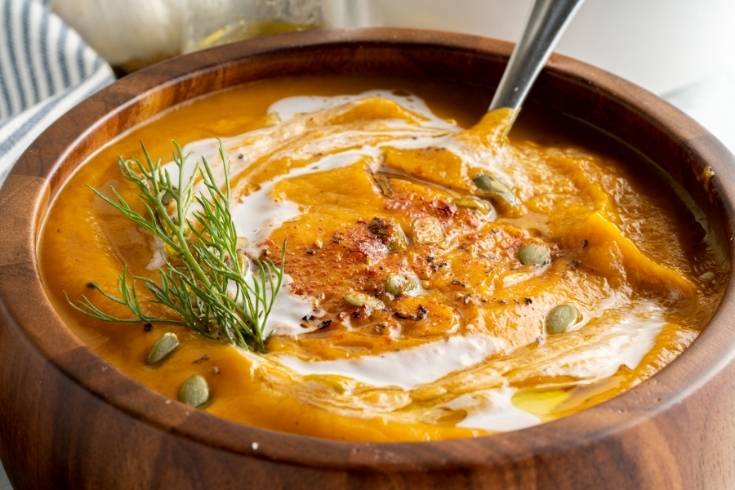 How Do You Heat Up Pumpkin Soup?
Reheat this sweet autumn soup on the stovetop over low heat for best results. You'll want to stir the soup frequently. Take care not to allow the soup to boil, as it may cause separation.
If your soup is frozen, simply thaw it in the refrigerator prior to reheating.
More Pumpkin Recipes
If you like my fall dinner idea for vegan roasted pumpkin soup recipe, then be sure to check out these other ideas for cooking with pumpkins:
For more fall recipes follow Becca Ink on Pinterest, Facebook and Instagram.