Soothe pain naturally with this pain relief massage bar recipe. Made with massaging adzuki beans and a blend of essential oils that offer natural, soothing pain relief, this natural massage bar recipe is the perfect remedy for sore muscles, joint pain and arthritis relief.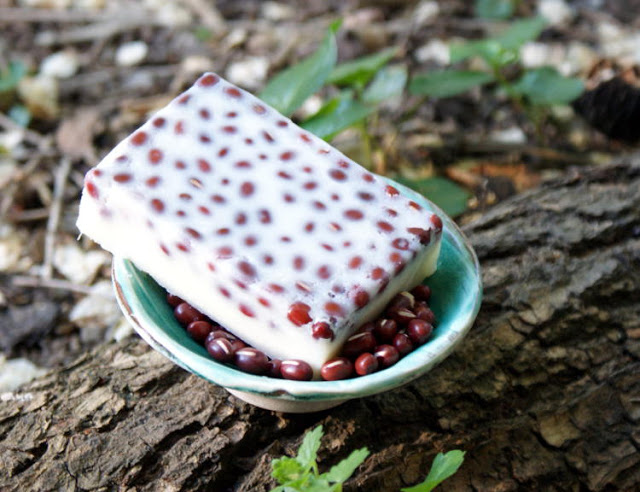 Inspired by the Lush Wiccy Magic Muscles Massage Bar, this natural pain remedy is easy to make. You only need a few simple ingredients to create your own massage bars at home for natural, soothing pain relief! Made using a base of shea and cocoa butters, this Lush inspired massage bar recipe also includes massaging adzuki beans and a combination of cinnamon leaf and peppermint essential oils for a warm, tingly sensation that helps to ease and soothe sore muscles.
Pain Relief Massage Bar Recipe
Ingredients:
3.5 oz. cocoa butter
1 oz. shea butter
1 oz. adzuki beans
1 mL cinnamon leaf essential oil
1.5 mL peppermint essential oil
Directions:
You will need to weigh out the ingredients for this massage bar recipe. I recommend using a digital scale.
Start by weighing out the cocoa butter and shea butter. Combine the ingredients in a double boiler. Then heat until melted. Once the butters have melted, remove from heat.
Next, weigh out the adzuki beans and set aside.
Once the butter mixture begins cooling and starts to look cloudy, measure out the essential oils using graduated transfer pipettes. Add the essential oils to the melted butters, then stir into the butters until evenly incorporated throughout the mixture.
Now pour the cooling butters evenly into two mold cavities of this Ozera 6-Cavity Silicone Soap Mold.
Evenly divide the adzuki beans into each of the two mold cavities you just poured the melted butters into and gently mix with a utensil.
Allow your massage bars to finish solidifying. You can speed up this process by popping the mold into your fridge.
Once your massage bars have fully solidified, simply remove from the mold cavities and package or use immediately.
As this pain relief massage bar recipe creates a massage bar that easily melts on body contact, you will need to keep your massage bars stored in a temperature controlled location away from heat.
To use, simply massage the bars onto your skin.
More Recipes for Natural Pain Relief
If you like my pain relief massage bar recipe, then give these other natural home remedies a try!
Love my pain relief massage bar recipe? Make sure you pin this post to Pinterest for later. You can also follow Becca Ink on Facebook and Instagram for more great DIY ideas.