Celebrate the holidays with all your favorite childhood treats! These green Rice Krispie Christmas trees are a festive take on a traditional dessert. Decorated for the season, this deliciously sweet, no bake cereal bar is sure to delight visiting friends and family. Discover this easy way to dress up this popular holiday treat while also keeping some of that old-school flair in your kitchen.
Christmas Tree Rice Krispies Treats
When it comes to holiday sweets, cookies get all the glory. But there's no reason you can't make some cute Christmas desserts without turning on your oven! On top of being simple to make, these no bake Christmas tree Rice Krispies treats are also easy to decorate. That makes them perfect for making with kids during the holiday season.
Keep reading to discover how to create these seasonal goodies for your upcoming holiday party. These no bake Rice Krispies bars are shaped and decorated just like Christmas trees. Made with real butter, cereal and ooey gooey marshmallows, these hand sized desserts will without a doubt delight kids, friends and family with their scrumptiously sweet flavor.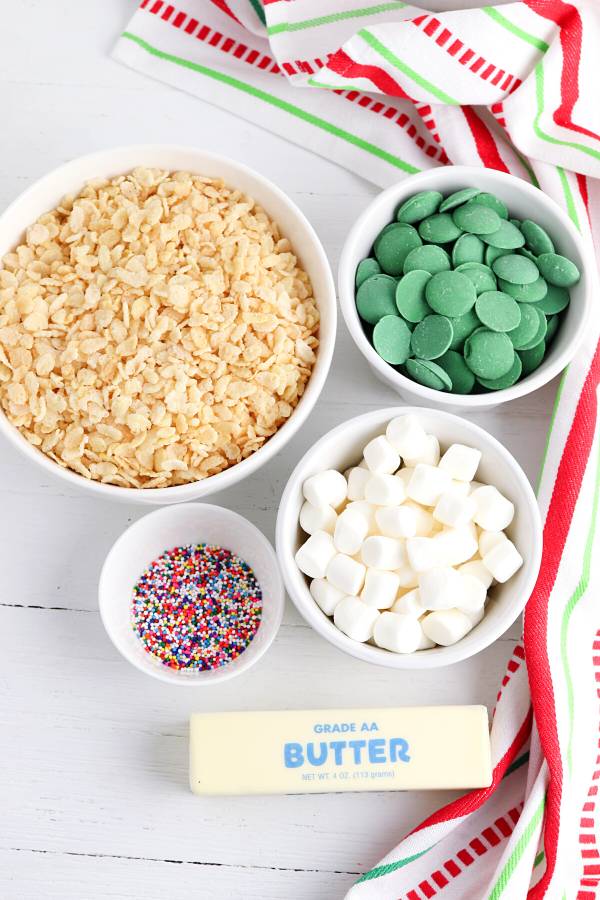 Holiday Rice Krispie Treat Ingredients
You can make a batch of no bake cereal treats for your holiday celebration with just a handful of simple ingredients. To make and decorate your Christmas tree treats, you'll need:
Rice Krispies cereal: You can't make this iconic holiday treat without the cereal! I used the original version of this crisped rice cereal to make these tasty no bake desserts. However, you can get creative with your treat variations by using one of their other flavors, if available.
Mini marshmallows: Marshmallows make this recipe ooey gooey delicious! Not only does ingredient add sweetness to these fun Christmas tree cereal bars, but they also help to hold the ingredients together. You'll definitely want to use the freshest marshmallows possible for this recipe. As older marshmallows tend to dry out, they don't melt properly and will negatively affect the texture of these holiday desserts.
Butter gets mixed with the marshmallows and cereal to help hold everything together and give this recipe extra flavor. It also ensures that they treats don't stick to the pan as easily.
Non-Stick cooking spray: Spray the pan with cooking spray to assist with the removal process of these goodies from the pan. Alternately, you can also grease the pan with butter.
Green candy melts: As white chocolate can be difficult to color and work with, I used green candy melts to coat the Christmas tree shaped cereal treat bars. This color, of course, resembles the color of evergreen trees and conifers typically used to decorate your home for the holidays.
Sprinkles: Candy sprinkles are an easy way to decorate this holiday dessert. You can use regular, colored sprinkles or candy colored balls to look like ornaments. Or try a fun Christmas sprinkles mixed for just such an occasion like this Santa's Workshop blend or Merry and Bright Sprinkle Mix!
Kitchen Tools and Equipment
Knowing what tools and equipment you'll be using in your kitchen will help you prep properly beforehand. Here are the additional supplies necessary to make these easy Rice Krispie Christmas trees:
Knife: You'll use a sharp knife to cut the Rice Krispies treats into triangle shapes. Once covered with green candy melts, they will resemble Christmas trees. Or, for more realistic looking trees, you can also use a Christmas tree cookie cutter.
Stock pot: A large, stainless steel stock pot or similar is used to melt and mix the ingredients to make these holiday cereal bars.
Baking pan: I used a non-stick 9″x13″ baking dish to make these Christmas Rice Krispies treats. You'll spread out the melted ingredients into the pan to cool and solidify prior to cutting into tree shaped cereal bars. In addition, if you choose a pan with a lid, you can also use it to store your holiday goodies.
Spatula: A silicone spatula or a large spoon is necessary to mix the melted butter, cereal and marshmallows together to form Christmas goody bars.
Medium bowl: Use a heat safe bowl or measuring cup to heat and melt the green candy wafers in the microwave. Alternately, you can also use a double boiler or chocolate melting pot for this task.
Parchment paper: Lining the pan with parchment paper prior to making these Rice Krispie Christmas trees will make clean up a snap! You also won't have to worry about trying to scrub dried marshmallows out of the bottom of the pan.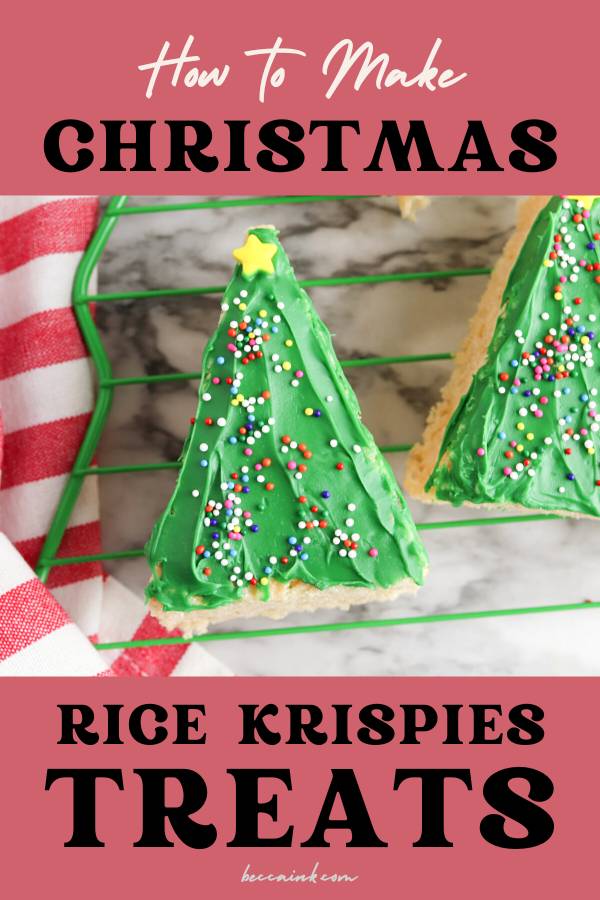 How to Make Rice Krispie Christmas Trees
These adorable Christmas tree treats couldn't be easier to make! And thanks to a simple cutting method, there's no need to use cookie cutters to create the Christmas tree shapes. That means you can reduce the waste that comes along with making cute holiday shaped treats and have more adorable snacks to serve your Christmas guests.
Prep the ingredients
1. The first step to making these fun treats is to prepare the Rice Krispies bars. First, place your butter in a large stock pot and cook it over medium-low heat. Continue warming the butter until it's fully melted.
2. Once the butter is melted, add the marshmallows to the pot. Continue heating the ingredients in the pot until the marshmallows are melted.
TIP: Make sure to stir the ingredients continuously to keep the marshmallows from burning on the bottom of the pan.
TIP: For extra gooey goodie bars, you can increase the amount of marshmallows used. Simply add additional cereal to compensate at a 1:1 ratio to the marshmallows.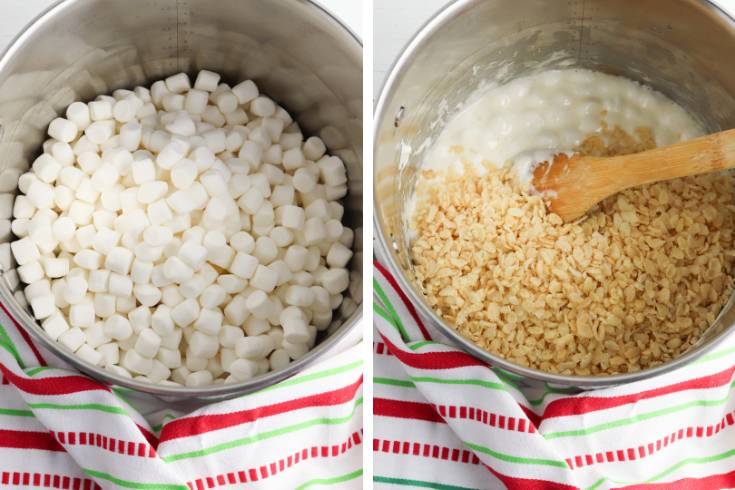 3. When the marshmallows are melted, remove the pot from the heat source and add your rice cereal. Carefully stir the cereal into the melted marshmallows. Use a wooden spoon to pull the marshmallows up from the bottom of the pan over the top of the cereal. Continue in this manner until all the cereal is coated in marshmallows.
TIP: For extra flavor, stir in 1/2 teaspoon of real vanilla extract. Or toss in a handful of mini chocolate chips!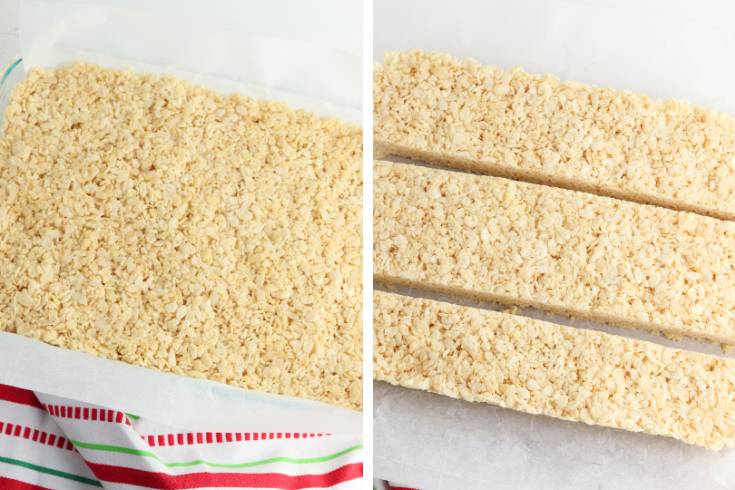 Form cereal bars
4. Now that your cereal is ready to be made into bars, line a 9×13 baking pan with parchment paper. Then place the paper in the pan. Make sure to let the edges of the paper hang over the sides of the pan to make it easier to remove your bars when they're finished cooling. Then, lightly spray a coat of nonstick cooking spray around the pan and paper.
5. Once your pan is ready, spread the cereal mixture in the pan, making sure it's placed evenly across the entire pan. Use your hands to press the bars into the pan until they're firm and even. After that, let them sit at room temperature for at least one hour to cool and harden.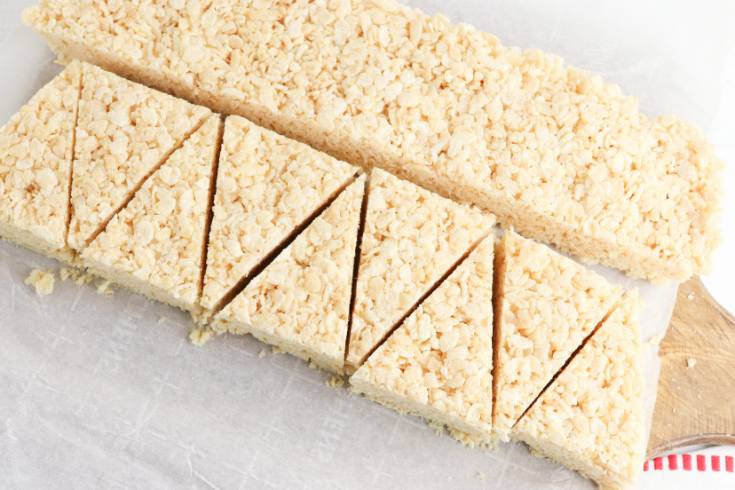 Cut treats into Christmas tree shapes
6. After the treats have had time to cool, pull them out of the pan using the edges of the parchment paper and transfer them to a large cutting board.
7. To cut them into tree shapes, start by cutting the larger rectangle into three long, thin rectangles. Then, cut each long rectangle into triangles, alternating diagonal cuts along the entire length of the piece. Repeat this process with the remaining two pieces.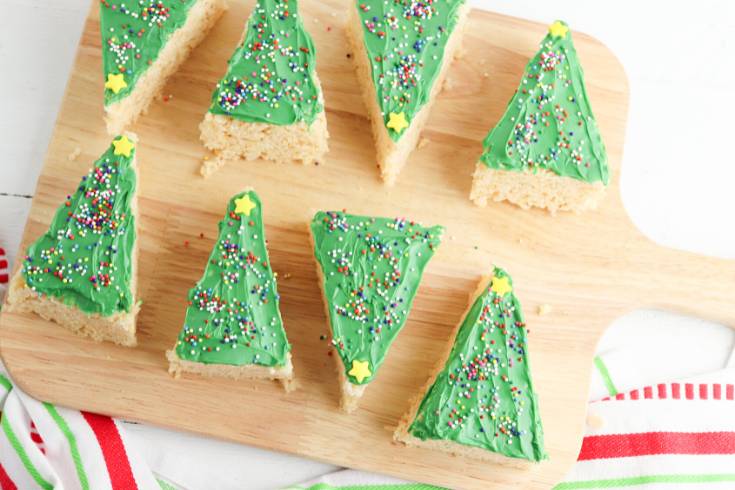 Decorate the cereal bar treats
8. Now that your Christmas tree shapes are cut, all that's left to do is decorate! Start by melting the green chocolate candy melts according to the instructions on the back of the package.
9. Then, spread or pipe the melted chocolate over the top of each triangle. You can use the back of a spoon or a spatula for this step. Or fill a piping bag or Ziploc bag with the corner snipped off to drizzle the candy melts to coat.
10. Once coated with the green candy, immediately decorate the melted chocolate with sprinkles. I like to place a star sprinkle on top just like I would if I were using real Christmas tree decorations!
After that, let the chocolate cool and harden before enjoying your Rice Krispie Christmas tree treats.
Yield: 27 cereal bar treats
Rice Krispie Christmas Tree Treats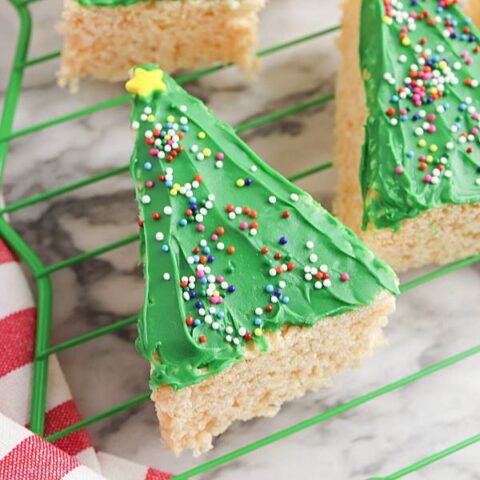 These green Christmas tree Rice Krispie treats are fun and easy to make for holiday parties or after school goodies. Make this nostalgic holiday dessert with green candy melt and festive sprinkles as decorations to delight your friends and family this winter.

Prep Time 15 minutes

Cook Time 15 minutes

Total Time 30 minutes
Ingredients
1 - 12 ounce package Rice Krispies Cereal
¼ cup salted butter
2 - 10 ounce packages mini marshmallows
2 cups green candy melts
Sprinkles, to suit for decorating
Instructions
Melt the butter in a large stock pot over medium-low heat on the stovetop.
Once the butter is melted, add the marshmallows. Stir continuously until the marshmallows have all melted.
Now remove the pot from heat. Mix in the cereal. Stir until all the cereal is coated in the marshmallow mixture.
Line a 9x13 baking pan with parchment paper, making sure the paper is hanging over the edges of the pan. Then spray with non-stick cooking spray or lightly grease with butter.
Press the cereal bar mixture into the pan. You want it to be solid and firm. Then, allow the Rice Krispies bars to cool completely.
Remove the treats from the pan by pulling up on the edges of the parchment paper. Transfer the cereal bars to a flat surface.
Use a large, sharp knife to cut the rectangle into three equal strips. Then, cut each strip into triangles to form the Christmas tree shapes.
Melt the green candy wafers according to the package instructions. After they have melting, spread or pipe the melted candy coating over the top of each triangle.
Immediately add the decorations to the Christmas tree Rice Krispies. Gently press sprinkles into the melted chocolate, then add a candy start to the top of each tree.
Nutrition Information:
Yield:
27
Serving Size:
1
Amount Per Serving: Calories: 197Total Fat: 2gSaturated Fat: 1gTrans Fat: 0gUnsaturated Fat: 1gCholesterol: 5mgSodium: 103mgCarbohydrates: 44gFiber: 0gSugar: 24gProtein: 1g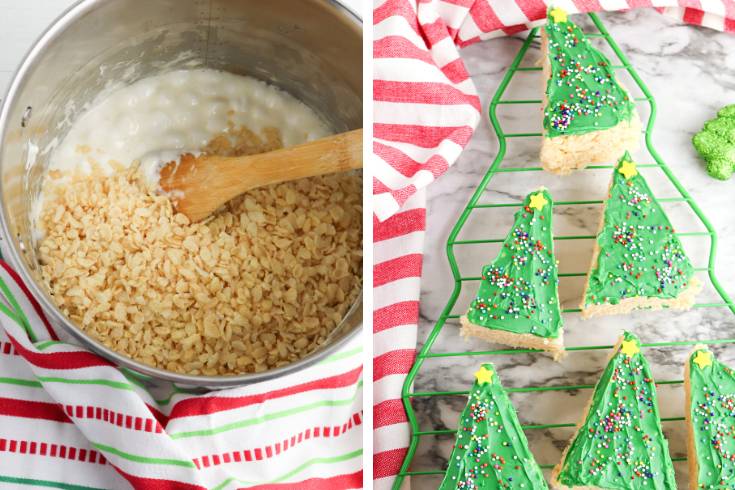 Christmas Rice Krispies Treats FAQ
If you still have questions about how to make Rice Krispie Christmas tree, this section will answer any concerns you may have.
What is the Best Way to Make Rice Krispie Christmas Treats?
There are two methods to making rice cereal treats — on the stovetop and in the microwave. While the microwave may be a little bit quicker, I find it's easier to mix all the ingredients on the stovetop. Use these cooking tips to prepare your treats on your stove:
Use a very large pot. The key to getting the ingredients in your treats fully mixed is to use a large pot. I always use a stock pot to make rice crispy treats, but a large Dutch oven would also work. The larger the pot, the easier it will be to stir everything together once the cereal is added to the marshmallow mixture.
Grease your spoon. One of the biggest issues you may run into when making rice Krispie treats is the ingredients sticking to your spoon. To keep the marshmallows from sticking, start by spraying your spoon with a little bit of nonstick cooking spray. The spray will provide a barrier on your spoon, making it easier to stir without a mess. Alternately, a silicone spatula also works wonders.
Grease your hands. After you've mixed your rice krispy treat ingredients together, the last step is to press the bars into the pan. This can get a little messy if you aren't careful! To keep the marshmallows from sticking to your hands, spray some nonstick cooking spray on your hands then use them to press the bars into the pan.
Can You Make Rice Krispie Treats in the Microwave?
While I prefer making my rice cereal treats on the stovetop, they can also be made in the microwave. Just place the butter and marshmallows in a large, microwave-safe bowl and heat them for around one minute to melt the two ingredients.
After that, add the cereal the bowl and stir to coat everything together. If your bowl is too full to stir, try dividing the ingredients between two bowls to make it easier to stir.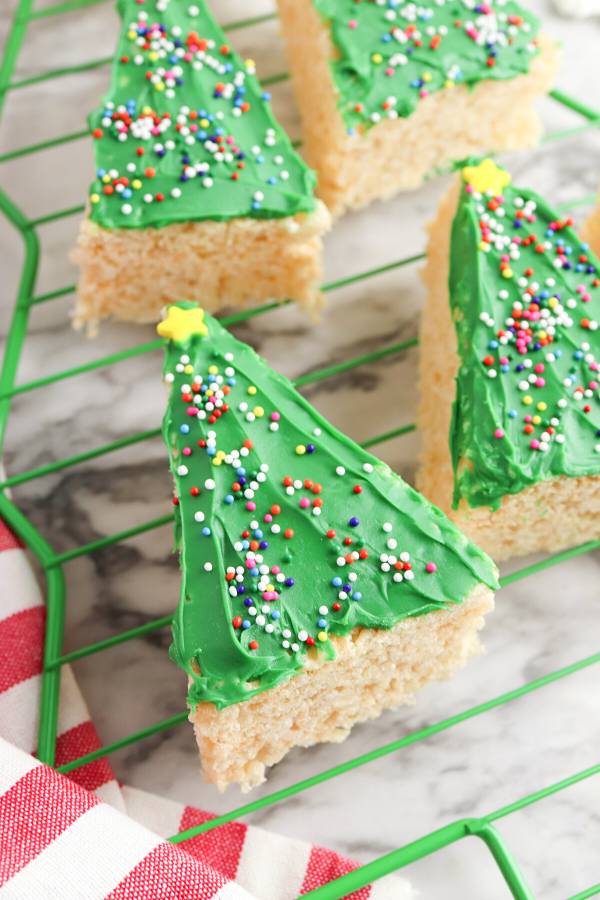 How Do You Store Christmas Rice Krispie Treats?
Store your Christmas Rice Krispies treats in an airtight container or large Ziploc bag after they have cooled. They will keep for one week at room temperature. However, they taste best when eaten within the first several days. They do not need to be refrigerated.
In addition, you can also freeze these Christmas tree Rice Krispies. Simply wrap in wax paper then seal inside a Ziploc bag. Freeze the cereal bars up to 3 months. To thaw, place on the countertop for about one hour prior to serving.
How Do You Keep Rice Krispies from Getting Hard?
The most common reason that these Christmas tree Rice Krispie treats may get hard is heat. Using higher heat then necessary may melt the butter and marshmallows faster, however, this results in a rock hard cereal bar. Instead, melt the ingredients slowly over medium-low heat so they remain soft and chewy.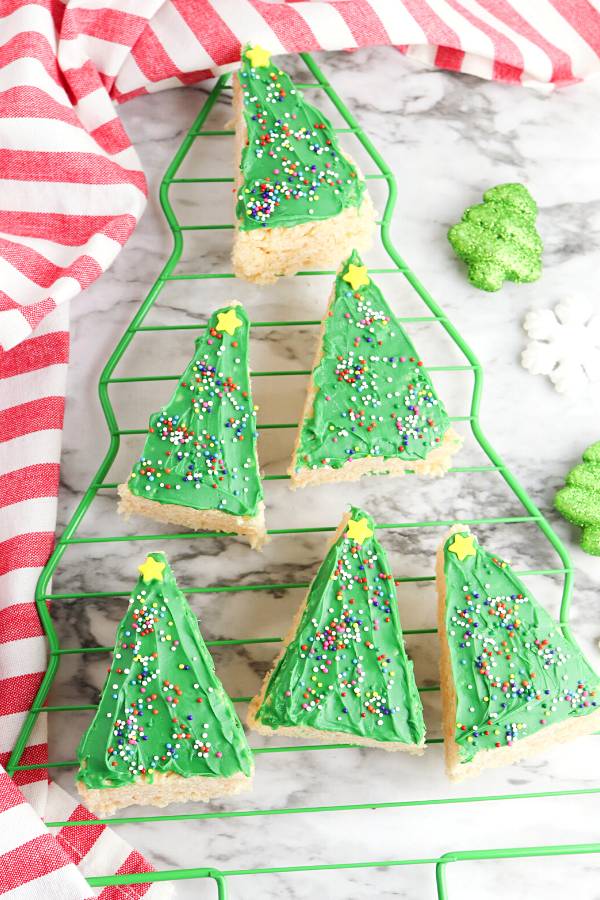 Why Are My Rice Krispie Christmas Trees Rubbery?
In short, rubbery Christmas Rice Krispie treats are generally due to too much butter. While some folks add more butter to get extra flavor, if you go overboard, your cereal bars may suffer. However, you'll find that using old or stale Rice Krispies cereal that has lost its crisp will also contribute to this outcome.
What Kind of Butter Do You Use to Make Rice Krispies Treats?
As this recipe doesn't call for the addition of salt, you should use salted butter when making these holiday cereal bars. If desired, you can brown the butter beforehand to give the finished dessert more flavor.
Take care not to use too much butter when making your Rice Krispie Christmas trees. Otherwise, the texture of the bars may feel soggy or appear stale.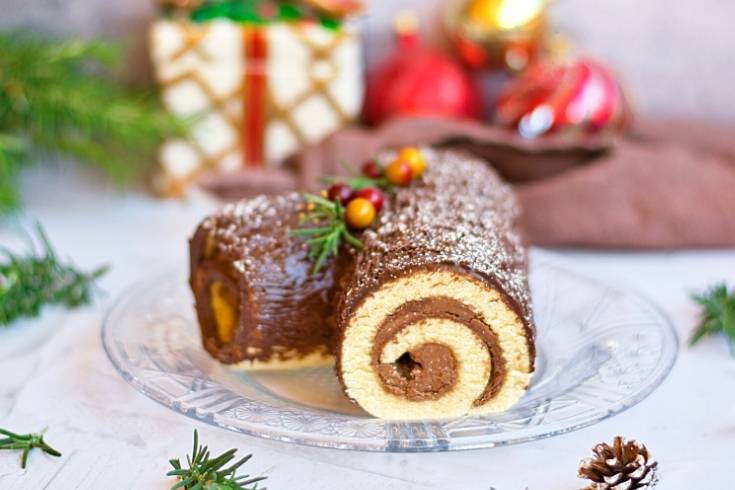 Christmas Dessert Recipes
If you enjoyed my easy recipe for Christmas tree Rice Krispies treats, then be sure to explore these other fun holiday ideas for your dessert table:
For more holiday dessert ideas like my Christmas tree Rice Krispie treats, follow Becca Ink on Pinterest, Facebook and Instagram.