Learn how to package hot chocolate bombs to give as homemade gifts this holiday season. This easy Dollar Tree gift wrap idea for a winter gift basket looks cute and saves you money.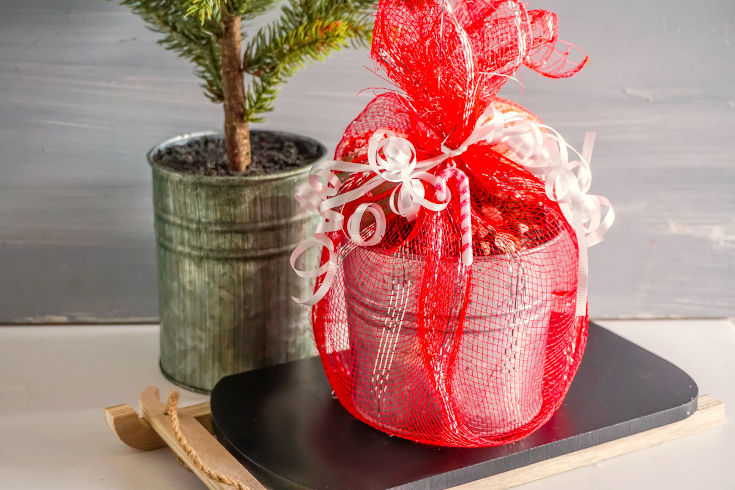 The thing about making and gifting hot chocolate bombs, or any other homemade gift for that matter, is that you not only have to create the gift, you also must come up with the packaging. For many of us, figuring out packaging ideas for homemade holiday food gifts that are not only functional, but also look pretty, can be a challenge.
Luckily, there is an easy and affordable way to package your hot chocolate bombs with marshmallows. With a quick run to your local Dollar Tree, you can score everything you need to create a beautiful hot cocoa bombs gift basket for friends and family.
This easy gift wrapping idea is a wonderful way to package your hot chocolate bombs whether you're making a last minute Christmas gift or a seasonal winter gift. This hot cocoa bombs gift wrapping idea can also be easily adapted for a Valentine's Day gift basket.
Keep reading to learn how to package hot chocolate bombs to create a unique winter gift baskets for gift your friends and family. This affordable gift idea is perfect for anyone on a budget this holiday season. There are even free printable gift tags with instructions on how to use hot cocoa bombs that you can attach to your gift.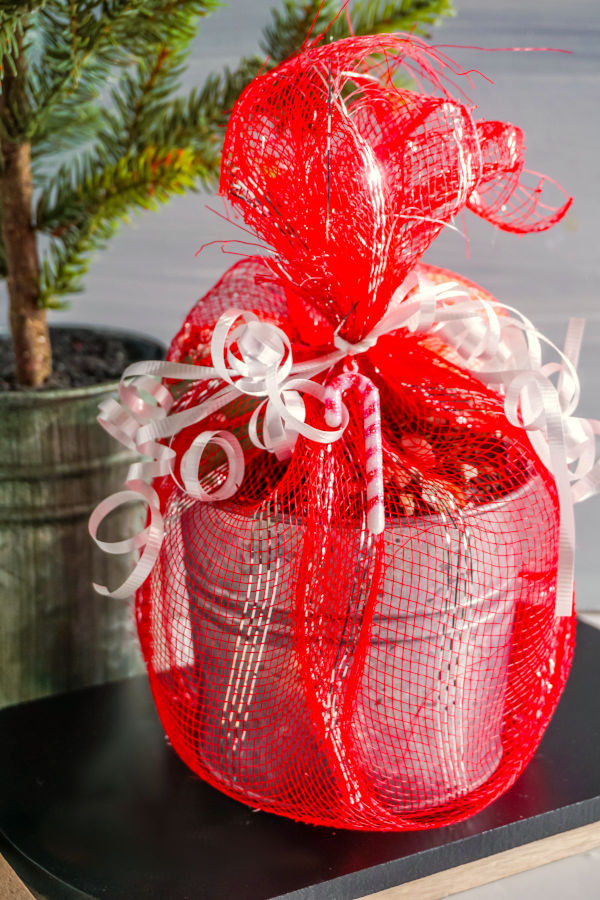 DIY Dollar Tree Hot Chocolate Bombs Gift Basket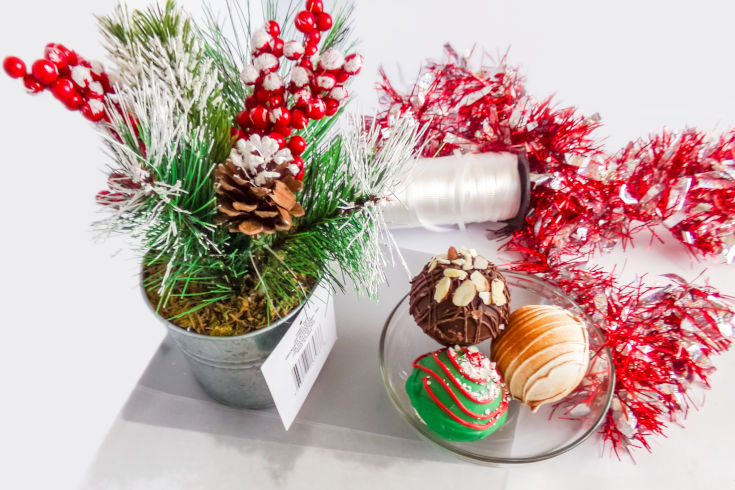 What You Need to Package Your Hot Cocoa Bombs:
1-2 feet Christmas or Valentine's Day Tinsel
3-4 Prepared Hot Cocoa Bombs
Dollar Tree Tin Bucket Floral Arrangement
Parchment Paper
6-inch Red Mesh Ribbon
1 Rubber Band
Tiny Candy Cane Embellishment, optional
Bakers Twine or Embroidery String, optional
How to Put The Gift Basket Together:
To package the hot chocolate bombs in a gift basket, first remove the floral elements from the foam insert in the tin bucket floral arrangement.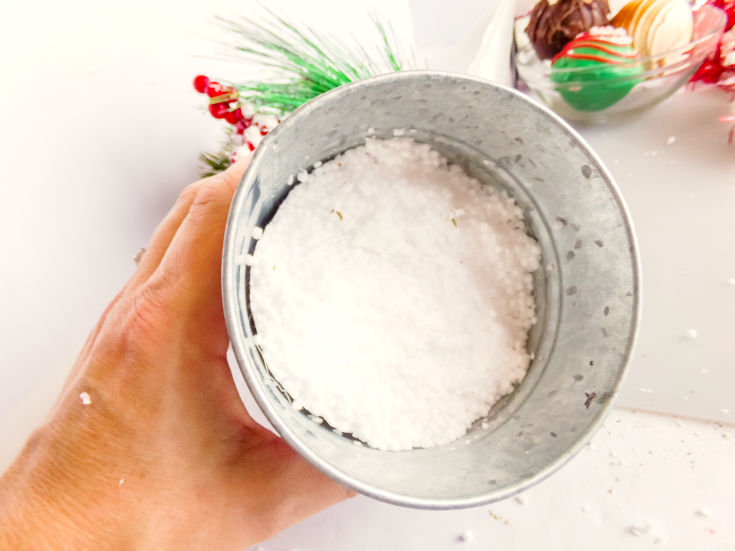 You can leave the foam inside the tin bucket. This will be used to give your Dollar Tree gift basket height, so that it looks full and pretty.
Next, fill the space on top of the foam with the tinsel. Use more or less tinsel depending on the number of hot cocoa bombs you're including in your gift basket, as well as taking their size into consideration.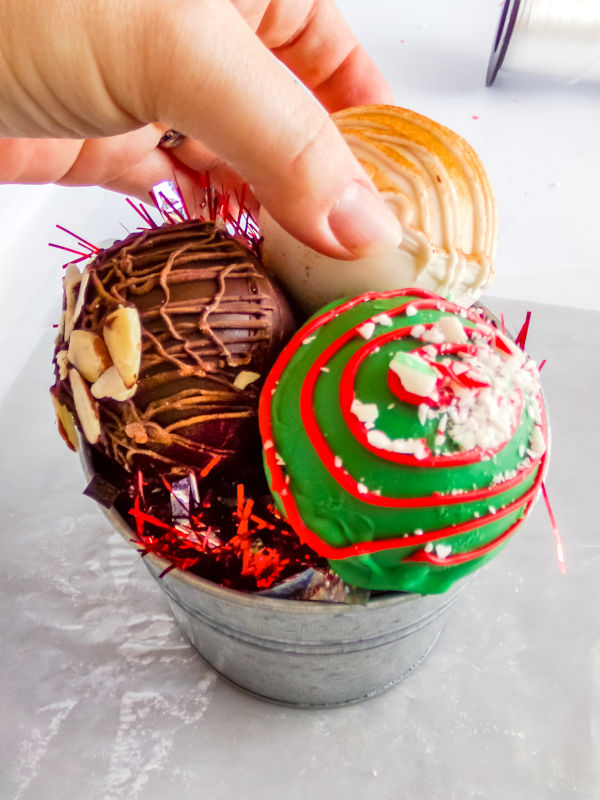 Now group the hot chocolate bombs on top of the tinsel. Position them in a manner that they are nestled inside the tinsel. You don't want them to fall out of the tin container and break.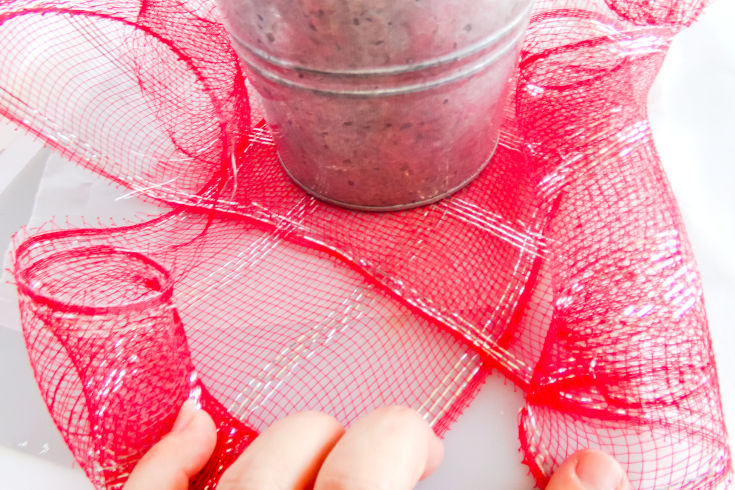 Once the hot cocoa bombs are positioned securely, cut two 12-18 inch long lengths of the mesh ribbon. Then place the ribbons perpendicular to each other, centered with one ribbon on top of the other.
Now place the tin bucket on top of the ribbons so it is positioned in the center, where the ribbons overlap. Next, wrap all four ends up the mesh ribbons up and around the tin bucket. Then use the rubber band to secure the ribbons together. You want to tie the ribbons together at the top so that they are snug, with the rubber band just above the hot chocolate bombs.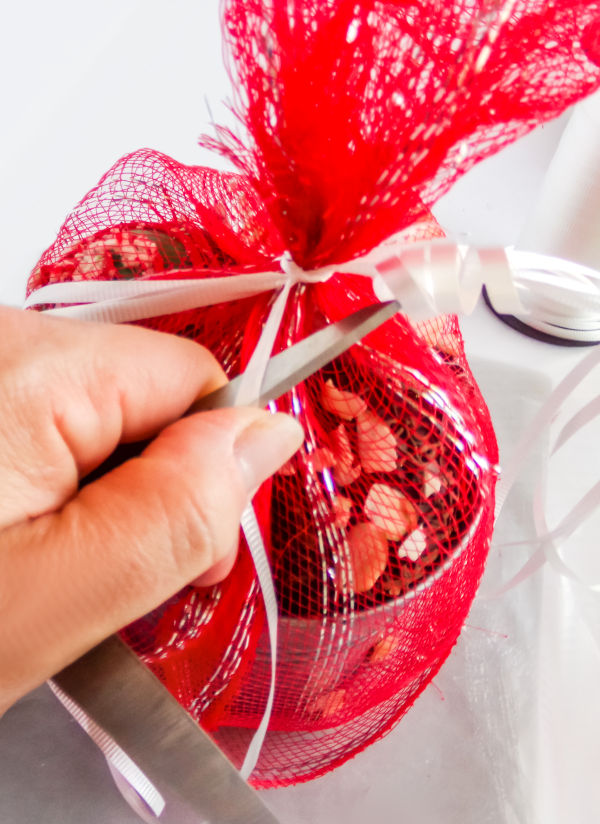 Now use the white curling ribbon to disguise the rubberband. Simply wrap the white ribbon around the rubberband several times, then tie into a bow. Then curl the curling ribbon as desired.
To add a holiday feel to your Dollar Tree gift basket, tie the candy cane embellishment to one end of an embroidery thread. Then attach it to the gift basket by wrapping it around the curling ribbon and tie.
If you are including the printable gift tag to the basket, simply punch a hole in the gift tag. Then loop the gift tag through the thread before you tie off the end.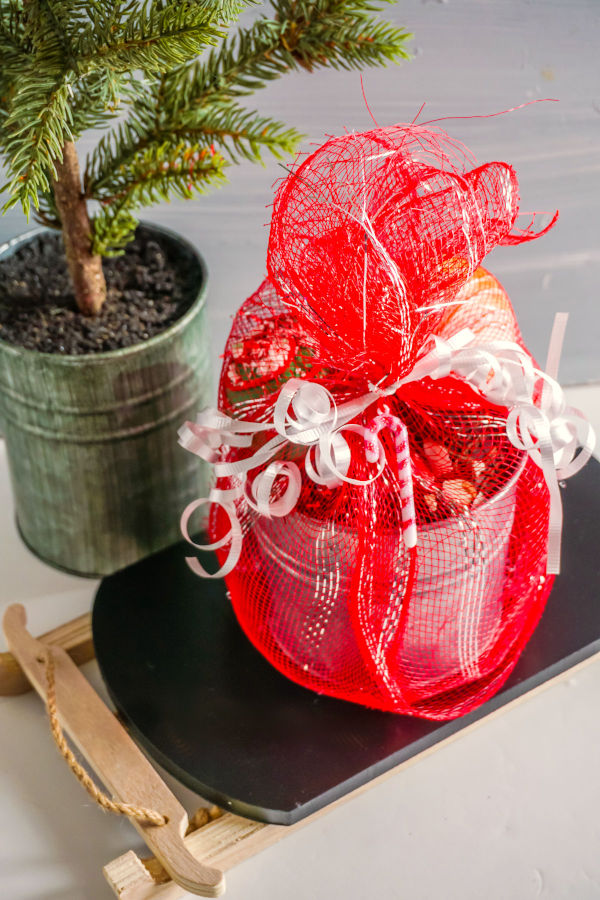 You've now successfully packaged your hot chocolate bombs in a beautiful Dollar Tree gift basket for the holidays. All that's left is to gift your friends and family with these fun winter treats!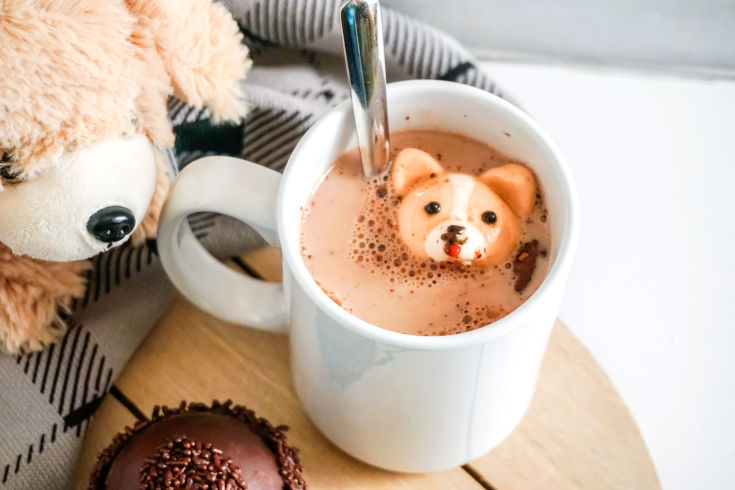 If you'd like to learn how to make hot cocoa bombs, you can find my hot chocolate bombs with Corgi marshmallows recipe here. Or try this easy, mini hot chocolate bomb recipe.
Love this homemade holiday food gift idea? Then check out these other amazing Christmas food gifts for friends and family that you make and bake for the holiday season.
For more great food recipes and DIY ideas, you can follow Becca Ink on Pinterest, Facebook and Instagram.