Create these fun and functional DIY foodie gifts for him for Valentine's Day! Featuring organic spice blends designed around a man's food palette for grilling, pickles and spicy Mexican dishes, this foodie gift idea comes with coordinated printable valentines for the perfect finishing touch.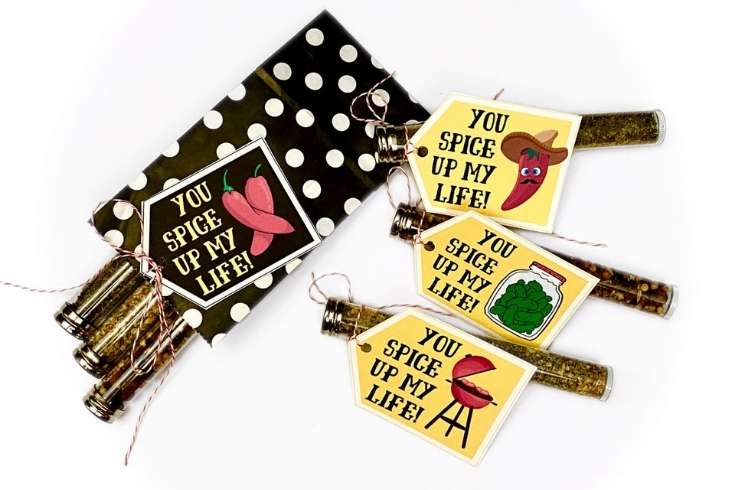 Coming up with Valentine's Day gifts can be hard. These easy DIY foodie gifts for him, however, are a fun and simple way to get creative for Valentine's Day. Make unique DIY Valentine's day gifts for your boyfriend, husband or significant other. Or give these spice mixes as homemade foodie gifts for friends who love to cook. Simply fill food safe test tubes with organic spice blends, then attach the free printable valentines for a quick and easy gift! It's a fun way to let that special guy in your life know that he really spices things up!
Crafting the Perfect DIY Foodie Gifts for Him
This DIY Valentine's Day gift idea for him was created with cooking in mind. I used three organic spice blends from Mountain Rose Herbs for this project, each chosen for foods that men love to cook like grilled steaks, tacos and even dill pickles for sandwiches and burgers. These deliciously handcrafted organic spice blends are always made with the freshest and most flavorful organic spices from around the world. They are certified organic as well as kosher certified.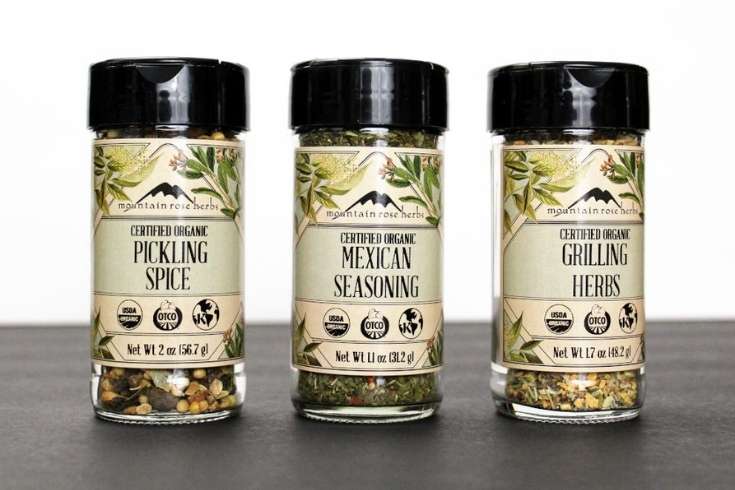 Organic Spice Blends for Foodies
For my DIY foodie gifts for him this Valentine's Day, I used the following organic spice blends:
Mountain Rose Herbs Grilling Herbs
The grilling herbs spice blend packs a punch with its bold flavor and penetrating aroma which holds itself well against high heat and direct flame. It's a popular all purpose flavor enhancer for any food dish you typically grill or barbeque where most seasoning will burn off or dissipate.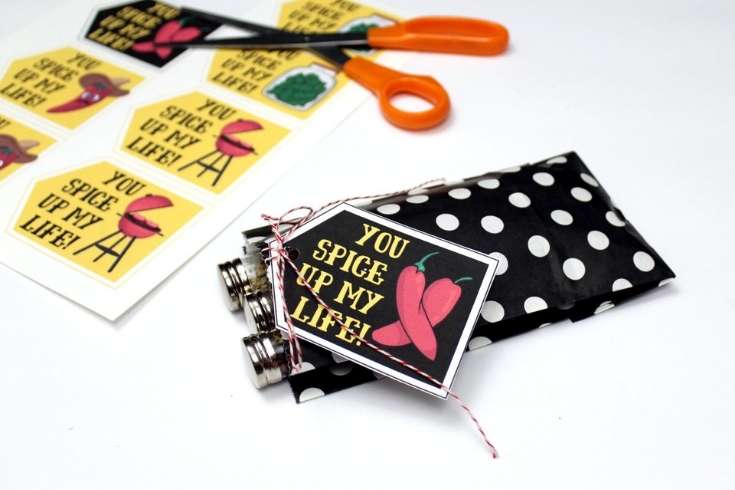 Mountain Rose Herbs Mexican Seasoning
The Mexican seasoning blend from Mountain Rose Herbs is a fiesta for your taste buds! This organic blend of spices is truly an invigorating addition to Mexican dishes including tacos, grilled meats and sauces.
Mountain Rose Herbs Pickling Spice
Perfect for quick refrigerator pickles, this sweet and savory pickling spice blend is a must have for homemade picklers! It's made with over ten cut spices, whole berries and seeds that are perfectly combined to complement any refrigerator or canned pickled fruit or vegetable recipe.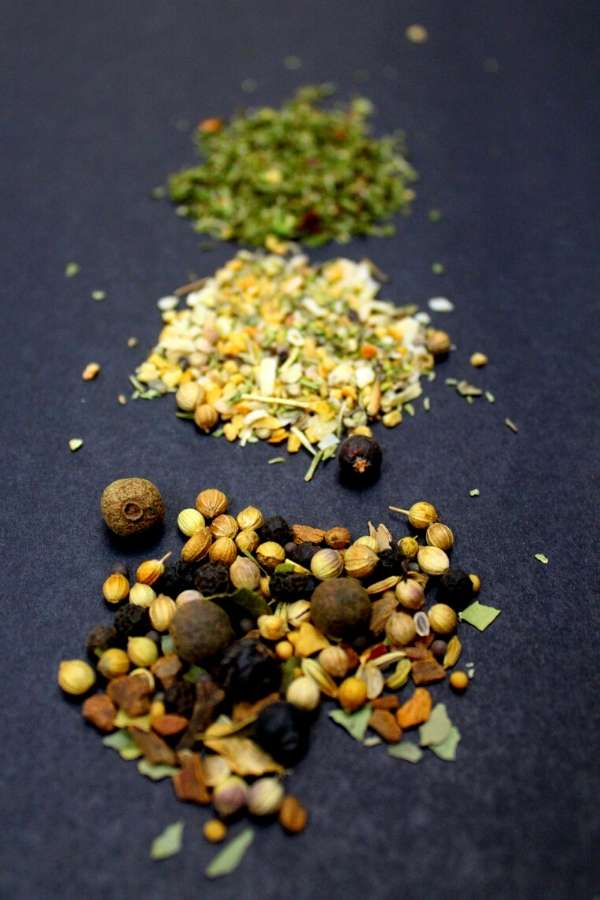 All of these organic spice and seasoning blends are available in spice bottles as well as in bulk. Both 8 oz. and 1 lb. refills are available. So it's easy to create up to three sets of spice mixes for DIY Valentine's Day gifts for him using one of each of the spice jars. You can also make multiple gifts to sell or to gift as party or wedding favors by purchasing these spice blends in bulk.
Don't forget to buy extras, however. You'll definitely want to have these spices on hand for your own delicious recipes as well!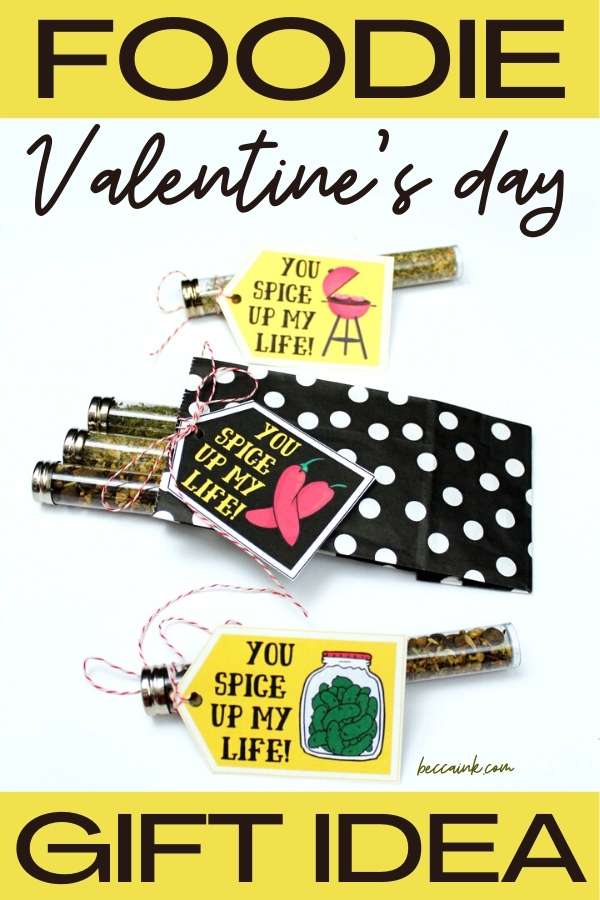 Spice Mix Foodie Gifts with Printable Valentines
Now that you've got the skinny on the amazing spices I used for these DIY foodie gifts for him, it's time to pull your gift together. Any man — or woman — that loves to cook will get a kick out of this homemade Valentine's Day gift.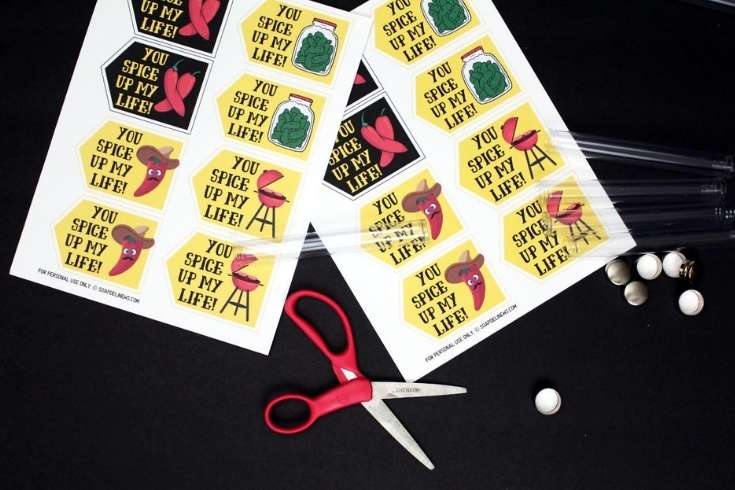 Tools & Materials:
Here's what you'll need to create your own homemade gifts with free printable Valentines gift tags.
Mountain Rose Herbs organic spice blends
Food safe plastic spice tubes
Cardstock
Bakers twine or ribbon
Free printable "You Spice Up My Life" Valentines
Gift bags, optional
Hole punch
Scissors
Printer
I got my spice tubes from SKS Bottle & Packaging. However, you can find similar food safe spice tubes on Amazon here. Be sure to only use spice tubes/test tubes that are approved for food use. Not all craft test tubes are food safe.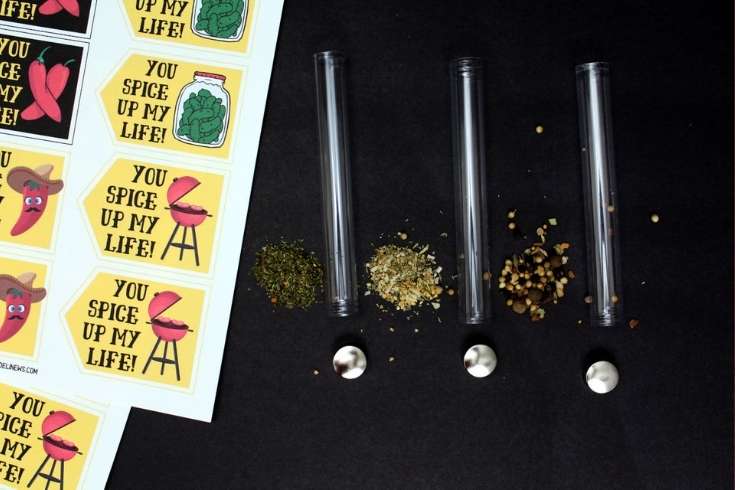 Instructions:
Fill the plastic spices tubes with the organic spice blends of your choice. You can use a small funnel to make this process easier. Once filled, screw on the caps.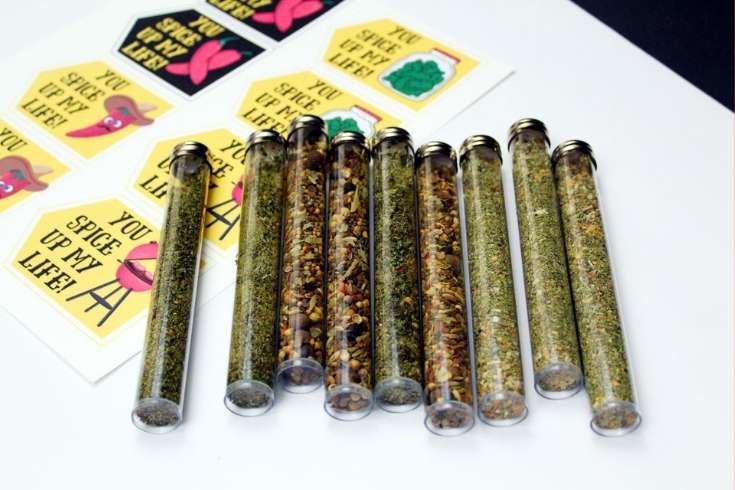 Now print about the "You Spice Up My Life!" free printable valentines onto cardstock. (You can download these printable gift tags here.)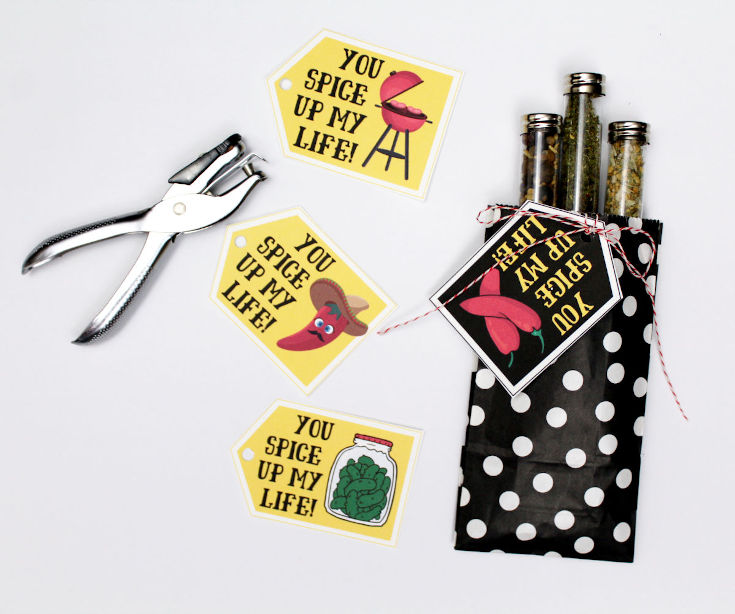 Use scissors to cut out the printable valentines you'd like to use. Then, use a hole punch to punch a hole in the end of each gift tag.
Finally use baker's twine to add your gift tags to a gift bag with three sets of organic spice blends.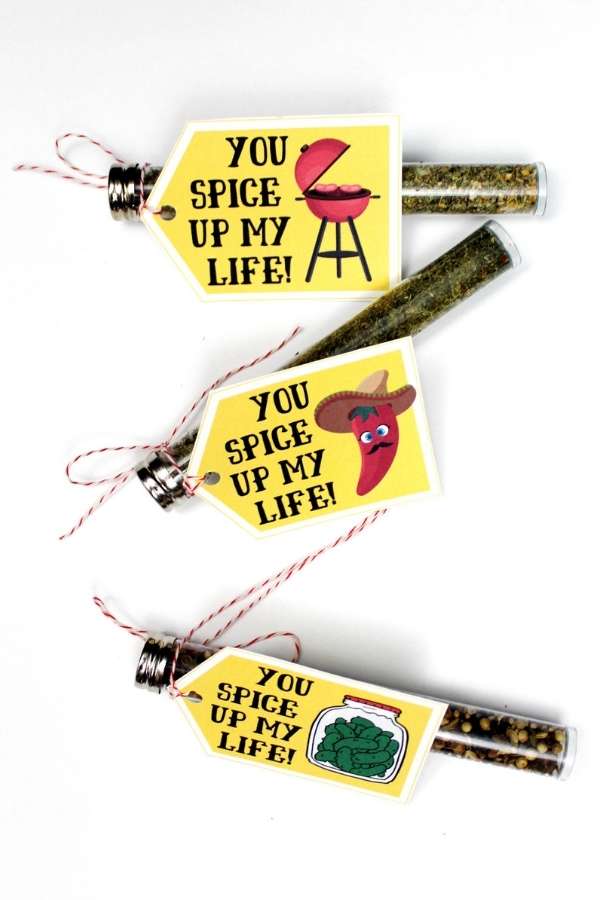 Or tie a different gift tag individually onto each vial to gift as single, smaller DIY foodie gifts for him.
I hope you love my idea for DIY foodie gifts for men who love to cook. It's such a fun way to spice things up by encouraging you both to cook together! If you choose not to use the three organic spice mixes curated with men in mind, you can also substitute them with your own favorite organic spice blends. The free printable valentines work great with just about any seasoning combination. So be sure to pin this project and the free printable valentines to Pinterest for later.
This idea for DIY Valentine's Day gifts for him originally appeared on Soap Deli News.
For more great food recipes and DIY ideas, you can follow Becca Ink on Pinterest, Facebook and Instagram.